In a passionate plea for the future of the River Wye, Councillor Ed O'Driscoll has publicly addressed an open letter to Jesse Norman, MP for Hereford and South Herefordshire. The letter, laden with concern, delves deep into the implications of the Nutrient Neutrality Bill currently navigating its way through Parliament.
Cllr O'Driscoll, representing Ross East, expressed his vehement opposition to the bill. He highlighted its original intent: to shield vital habitats, notably the River Wye, from the detrimental effects of sewage emissions, a by-product of housing developments. However, Cllr O'Driscoll fears that the Environment Secretary, Michael Gove's intentions to discard this crucial environmental safeguard might be more to curry favour with house builders, some of whom, he hints, might be Tory donors, rather than genuine concern for the rivers.
The letter also draws attention to Mr Norman's involvement in the 'Wye Phosphates Working Group', alongside fellow MPs Bill Wiggin, Fay Jones, and Mark Harper. Cllr O'Driscoll's disappointment is evident when he mentions that Bill supports the new bill. The councillor's primary aim is to ascertain Jesse's stance on this pressing issue.
Cllr O'Driscoll poses two pivotal questions to the MP:
Will Mr Norman back the cross-party Duke of Wellington Amendment, currently under discussion in the House of Lords, if it advances to the House of Commons?
If the amendment doesn't pass, will Mr Norman actively oppose the legislation, rather than abstaining, a choice he has made on previous occasions?
While acknowledging Mr Norman's role as a Government Minister and the inherent expectations to adhere to the party line, Cllr O'Driscoll emphasises the River Wye's significance to the constituency. The river, already in a fragile state, faces an uncertain future, and Cllr O'Driscoll's letter serves as a clarion call, urging decisive action to protect one of Herefordshire's most treasured natural assets.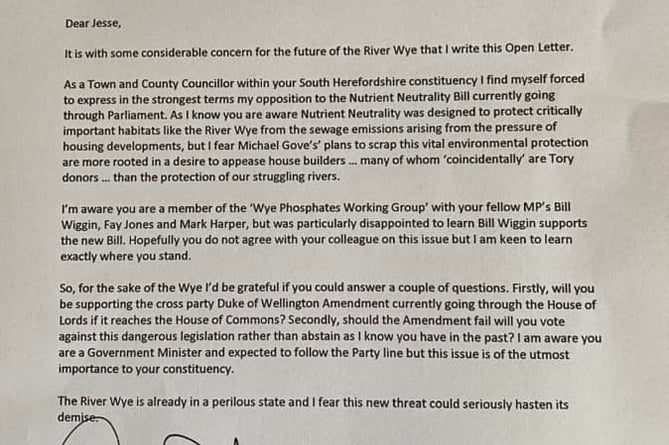 The open letter from Cllr Ed O'Driscoll to Jesse Norman MP
(Ed O'Driscoll)