1,000 sign petition to 'Save Our Bus'
Thursday 3rd February 2022 7:00 am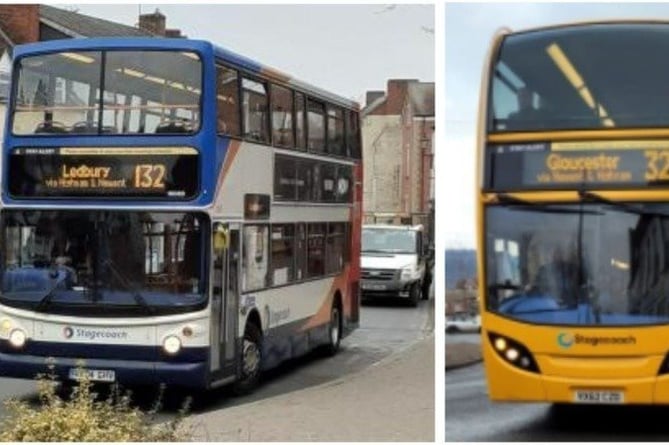 Subscribe newsletter
Subscribe to our email and get updates right in your inbox.
A PETITION to save bus services launched by two high school students has already received nearly 1,000 since being launched last Friday.
John Kyrle High School students Violet Hill and Bryce Elwine started the petition to save the 32/132 bus services that operate between Ross-on-Wye, Newent and Ledbury on January 28 and more than 900 have signed it so far.
Stagecoach West recently announced that from February 27 they will be cancelling all services from Newent to Ledbury along with most of the services linking to Ross-on-Wye, with buses only travelling around school hours.
The company have taken this decision claiming these services are rarely used. The decision has caused anger amongst local residents who believe the new timetable for the 32 service will make commuting via bus between Newent and Ross completely impossible for people travelling to and from work.
Violet said: "Stagecoach claims on their website that not many people use these services, however, this is completely incorrect.
"Stagecoach has completely dismissed the fact that we are currently recovering as a society from the COVID pandemic, which has brought mass unemployment and large amounts of people staying home for the sake of public health.
"How are we meant to Build Back Better if we can't even get to work?
"Also, there are people in Newent who use the 132 bus to get to school, who have been completely abandoned by this public service, instead completely removing services with barely any notice to parents.
"In fact, they've made these changes in such a way that makes the information hard to find on some small part of their website rather than putting such an important and ridiculous change on their extremely active Twitter account.
"It is absolutely appalling that Stagecoach is withdrawing these services just before things will be getting back to normal with COVID."
Violet also expressed concerns about the environmental impact of this decision, as people who would usually travel via this bus service have to use their cars to get to and from Ross.
She has urged residents to take action against this decision, adding: "Many people rely on these buses for their everyday lives, please sign and share this petition to help them."
Stagecoach said: "The Covid pandemic has significantly reduced the number of people using these routes, with buses north and west of Newent running at a loss.
"As a result, we'll no longer be running between Newent and Ledbury, and continuing only a school and shopper link between Newent and Ross-on-Wye.
"Buses between Newent and Gloucester will still run hourly as 32, with a slightly revised timetable."
Stagecoach has also said that poor pasenger numbers mean the 5.45am bus from Ross-on-Wye to Gloucester will be axed.
Newent's Liberal Democrat county councillor Gill Moseley said the axing of the 132 service to Ledbury was devastating news.
She claimed a month's warning was "totally unfair" and people living in Dymock could be "left high and dry".
"This is devastating news both for the regular and occasional users of these routes but Stagecoach states that the number of passengers is 60 per cent down on pre-Covid figures and the service is unviable.
"I have written to both the operations director at Stagecoach and to the head of services and the portfolio holder at Gloucestershire County Council.
"A subsidised service or alternative provision of some sort ought to be examined.
"Not only will Newent residents be unable to access the area north of our town by public transport, but people who live in Dymock and in the surrounding rural areas between here and Ledbury will be left high and dry.
"The service to Ross is very limited.
"The notice of little more than a month seems totally unfair and I have raised the question of consultation.
"So far, there have been no replies from Stagecoach and officers but I hope to post any useful responses [on her Facebook page] ASAP."
To sign the petition to save the 32/132 bus services go to www.change.org/p/save-our-32-132-buses
Comments
To leave a comment you need to create an account. |
All comments 0