For those seeking a supportive community of like-minded creatives and a venue to showcase and sell their work, Made in Ross presents the perfect opportunity.
Located upstairs at the historic Market House, the artistic heart of Ross-on-Wye, Made in Ross is a cooperative that offers its members a beautiful gallery space, participation in local art festivals, and resources to help promote and sell their work.
The cooperative welcomes applications from artists and makers at all stages of their careers, from newcomers to established professionals. Members are selected based on the quality of their work and their willingness to take an active role in the group.
By joining the Made in Ross cooperative, artists can enjoy a range of benefits, including: access to a gallery space with low commission rates; opportunities to showcase their work at local art events; networking and collaboration with other local artists and groups; access to workshops and support for artistic growth and development; a community of creative, like-minded individuals.
For those interested in becoming a part of this thriving artistic community, they can apply by visiting the contact page on the Made in Ross website at www.madeinross.co.uk and filling out the form. They should be sure to write the word "APPLICATION" at the top of the comment box.
Act fast, as the deadline for applications is Friday, April 14, 2023. This unique opportunity allows artists to join a cooperative that fosters creativity, collaboration, and artistic growth in the Ross-on-Wye area.
Earlier this year, the Gazette reported on Made in Ross' acrylic carving artist Tara Slater and her newest piece, which has already received interest of the town's art scene.
Tara Slater had been carving out intricate pictures of jellyfish for her latest work.
The medium, known as paint carving involves carving into many layers of acrylic paint, usually between 40 and 85, that have been layered up on a board. The layering can take between 10 and 30 days at around three layers per day with multiple colours; each carving is unique.
Layers of blues, greys, browns, and whites have revealed an elegant scene of the see creatures which, whilst not yet complete, has many of her social media followers keen to see how the finished piece turns out.
The piece is what's known as a paint carving, around 80 layers of acrylic paint in four colours with a paint poured background.
It took Tara around a month to layer up all the paint before doing the paint poured background.
It then needed a month or so to make sure it was really fully cured.
She told the Gazette: "It's taken about a week of carving so far and I think probably about another two days before it's complete."
Her recently launched website features a gallery of Tara's other prints with more being added. Tara was inspired to elevate her art from a hobby she loved, to a career that brings her daily joy, at the beginning of the Covid-19 pandemic.
She said: "I combine my joy of carving with my love of animals and the natural world, exploring through carved lines and colour my own personal connection to the world."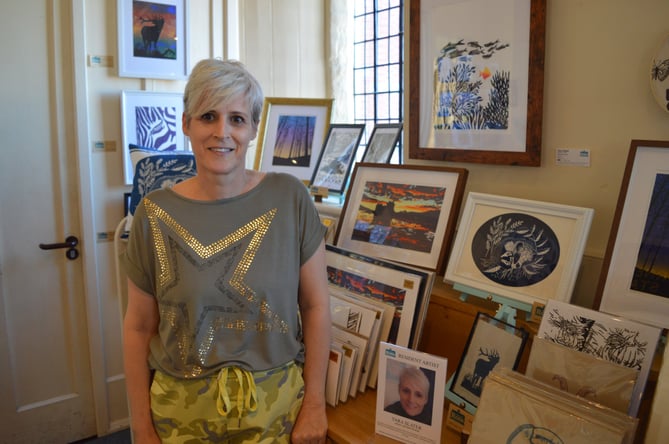 Tara Slater with her works at the Private View exhibition
()
Inspired by the natural world and a love for animals, Tara carves images in both lino for printmaking and into layers of acrylic paint, creating relief carvings. Her lino printings are transferred onto lino and then carved to create a relief.
The relief is then covered with printing ink and transferred to paper using pressure, either by hand or by press.
Tara is one of the featured artists at Made in Ross. An art collective which aims to promote local artists.