Big knit brightens town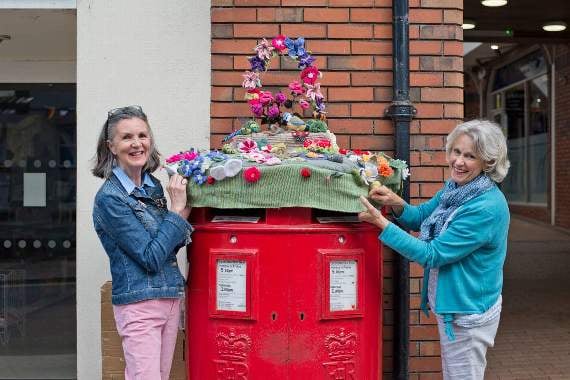 Subscribe newsletter
Subscribe to our email and get updates right in your inbox.
THEY'VE been at it again – Ross-on-Wye's resident guerrilla knitters were busy at the end of last week 'yarn bombing' the town centre with a stunning display of brightly coloured designs.
The Market House, the Maltings shopping centre, the front of a pub, a post box, street signs, bollards, lamp posts were among the knitters' targets as they marked International Yarn Bombing Day.
The Friday, June 11 event is thought to have begun in Texas around 16 years ago, when knitters started yarn bombing as a creative way to use their leftover and unfinished projects.
It is believed the start of the movement can be attributed to a lady called Magda Sayeg from Houston, who says she first got the idea in 2005 when she covered the door handle of her boutique with a custom-made cozy – and since then, it has spread worldwide reaching all corners of the globe including "Ross Vegas".
A Ross Town Council spokesperson said: "If you wander through Ross this weekend, you'll see that nothing has escaped our yarn bombers' attention – from postbox hats, hanging decorations and bollard berets to lamp post corsets, floral tree garlands, wreaths and knitted baubles.
"Many of the beautiful creations depict nature and intricate wildlife scenes including birds and bees, butterflies, snails and fish."
Cllr Rob Taylor added: "After the year we've had, and with Ross in Bloom starting to take shape, the yarn bombing project was another creative and colourful way to add a bit of cheer and dress the town up to mark the start of summer.
"My daughter, Jola, is involved in the operations and you can see her work on her Knitsey Facebook page.
"She and the knitting team have been working really hard and they've come up with an incredible array of knitted items.
"Just look up as you walk through Ross and you'll find all sorts of pieces hanging from the ceilings, off the walls and even in the vaulted ceiling at The Maltings.
"We hope our Ross residents and visitors will appreciate the work that's gone into this and we'll be adding to the current displays as the months go on – watch this space!"
To get involved with the Ross yarn bombing team, or if you have any leftover wool you'd like to donate for future projects, get in touch with Rob by emailing [email protected] or find Jola on Facebook by searching on 'Knitsey'.
For more photographs see this week's Ross Gazette, in shops now.
Comments
To leave a comment you need to create an account. |
All comments 0