Smiths Auctions in Newent are now looking forward to their 16th & 17th of February Antiques Sale after the recent huge success of their January sale. The first sale of the year provided a flurry of record prices and an overall record total of just under £140,000. The February sale includes a broad range of antiques and collectables including silver, gold, watches and jewellery as well as antique ceramics, glass, furniture pictures and collectables.
The sale also features a special section for Medals and Militaria which is one of the most sought after antiques collecting areas. As medals have become more popular over the last twenty or thirty years they have become harder and harder to source. This has pushed up the prices that collectors are prepared to pay, especially for sought after Victorian and WWI examples. Another reason these earlier medals make a premium over the WWII medals is that the name, rank, number and regiment of the soldier are engraved onto the rim of the medal. This makes collecting them a fascinating hobby for buyers who love to research as much information about the recipient as they can, using the Army Records Office and other sources. Sets of medals which include additional background information such as photographs, paperwork and other information will always sell for a premium. Buyers often have their medal sets laid out with photographs, certificates etc and then have them framed to display them on the wall.
Many collectors will follow specific themes such as collecting certain regiments or ranks. The smaller regiments are more sought after as they are rarer and obviously medals awarded for gallantry such as the Distinguished Conduct Medal or the Military Cross are the most sought after.
Other areas of militaria are also highly collectable and there is a ready market for uniforms, helmets, swords and antique guns some of which end up in museums or are used for display or even for re-enactment purposes. Badges are also very popular as a cheaper alternative to medals, although some scarce badges can obviously command very high prices. For example a rare silver and enamel George VI Kings Service Messenger Badge from the British Embassy in Madrid is estimated at £600/£800.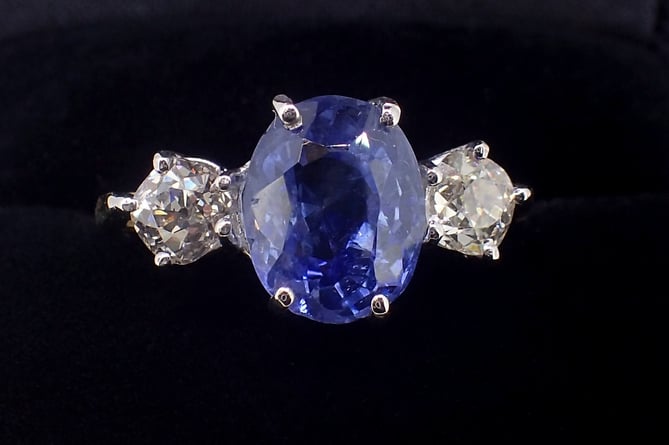 Sapphire and diamond ring
(Smiths Auctions)
Smiths sale also includes a good selection of jewellery and silver which seems to be selling surprisingly well despite the economic outlook. Many people are investing their money in gold and silver but private buyers also seem to keen to spend their money on diamonds and collectable antique jewellery which always seems to make a premium these days. Smith's February sale includes a stunning solitaire diamond ring weighing 2.33 cts and estimated to make £7000/£9000 as well as a beautiful sapphire ring estimated at £3,500/£4,500. Further jewellery, gold, silver and watch entries are invited now to make the most of this extremely buoyant market.
A selection of fine quality traditional antiques from the estate of a local long standing antiques collector includes three beautiful woven paisley shawls estimated at £150/£250 each whilst a selection of collectables includes antique tins, pond yachts and a rare early wooden flute estimated at £300/£500. A pair of late 17th or early 18th century oil on panel portraits of gentlemen wearing suits of armour are of particular interest since they are full length, which makes them more desirable. They are estimated at £400/£600 but could possibly make far more if the trade looks upon them favourably on the day.
Smiths are inviting further entries by appointment with the final deadline on the 31st of January. Please telephone 01531 821776 or visit www.smithsnewentauctions.co.uk for further information.