Christmas in the trenches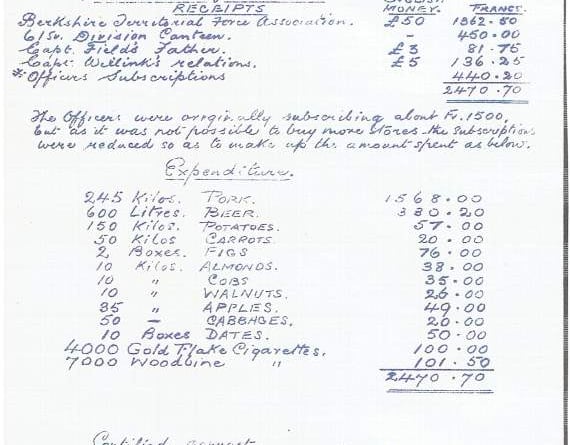 Subscribe newsletter
Subscribe to our email and get updates right in your inbox.
When we think about Christmas in the First World War, the first thing that springs to mind may be the Christmas Truce of 1914; where German and British soldiers sang carols and met in No Man's Land to play football. Some historians hail it as a moment of peace in an otherwise violent war.
However, this event was not a large-scale as many believe: along the Western Front on December 25th 1914, a series of small cease-fires did happen between some of the British and German Forces, but it was brief reprieve, and it angered military authorities.
The arrival of December 1914 was proof that the War would not be over by Christmas, which was what many of the men had previously believed when they had enlisted. That year would have marked the first festive period away from home for many of the soliders; British and German alike.
On Christmas Eve, which is the main night of celebration in Germany, the German soliders put up candles and trees along parts of their line. As darkness fell, British and German soldiers sang carols together.
In some areas on Christmas Day, following the events of the night before, some men tentatively emerged from the trenches, into No-Man's land.
On the places where this happened, enemy soldiers did indeed meet and the soldiers spent Christmas together. They exchanged gifts and took photographs. They tended to the dead and the wounded who lay in No Man's Land. Although there wasn't an organised football match between German and British sides, there were some small-scale kick-abouts, and other games.
However, in other places along the front, Yser for instance, bloody battles took place over the Christmas period. Allied forces who witnessed the friendly exchanges between the British and the German troops were both angry and confused.
Reports and pictures of the small-scale unofficial ceasefires reached the newspapers back home.
The military authorities were furious. They thought that the soliders would question the war, and there was a danger that there could be a mutiny.
As a result, strict orders were issued to end any such activity; any officer who had initiated an unofficial truce would be tried by Court Martial. There were also harsher punishments for any man caught refusing to fight.
Propaganda further demonised the enemy, and the small truces of 1914 never happened again. But the story remained out there and in the decades that followed, it has been told time and time again.
While fraternising with the Germans was emphatically discouraged, and there were not as many troops who did it as versions of the stories would have many of us believe, the authorities were keen to maintain morale and bring at least some festive cheer to those at the front.
King George V sent every solider a Christmas Card and a fund was set up in the name of his daughter, Princess Mary, which sent gifts, including tobacco or writing sets, to the troops.
The local men who fought in the First World War would also have had memorable Christmases in the trenches, even if they weren't a part of the unofficial 'Christmas Truce.'
Historian, Bill Webb, has researched the stories about some of the local soldiers who fought in the First World War, to unearth how they spent some of their Christmases in the trenches. None of the soldiers mentioned below made it home.
Private Henry Bray: 2/4th Berkshires
Henry Bray was from Ross-on-Wye, and he lived at 133 King Street. On Christmas Day, 1917, the Officers arranged for a festive dinner. The items they had brought in as a special treat for the men are shown in the pictured receipt.
Bill has done some calculations from Pounds to Francs. He worked out that 7,000 woodbine cigarettes, which totalled ?101.50, would have been £3.70.
Henry Allen Miles: 11th Cheshires
Henry Allen Miles was from Peterstow. On December 25th, 1916, in Ploegsteert, Belgium, a successful raid was carried out on the German trenches in the neighbourhood of Le Gheer.
It had originally been intended to enter the German lines in two places, one to the north and one to the south of the road, and a separate party detailed to enter each place. The whole time the raiding party was in the enemy trenches it is almost certain that the Germans there became casualties.
The raiding party returned to their trenches after about 28 minutes. One OR (Other Rank) was killed and nine were slightly wounded.
Private Lionel Charles Evans: 1st Herefordshire Regiment
Lionel Charles Evans was from Ross-on-Wye and lived at 46 Nursery Road. In 1915, he was a Prisoner of War at Angora Camp (Ankara) in Turkey. He had been captured at Gallipoli.
One of the soliders recorded: "Christmas Day was made as bright as possible by our Turkish officers who gave us permission to play football outside in a field. We played a match, Navy versus Army, in which Army won four goals to one. A concert was held amongst ourselves in the evening.
"On Boxing Day, another football match took place between AE2 versus E7 which ended in a drawn game.
"On New Year's Day, the Commandant visited us and wished us a Happy New Year and hoped we would soon be home with our families.
"The Australians played rugby against the Scottish Borderers, and the Australians won 6 points to 3. In the evening another concert was held.
"On January 4th, we received £1 from Camp Commandant and also received Christmas puddings, sweets and cigarettes from the Red Cross Society."
Private Frederick Dix: 1st South Wales Borderers
Private Dix came from Ross-on-Wye. On December 25th, 1914, the troops were called to 'Stand to Arms' at 6.30am. Many of the men were sick with frozen and rheumatic feet. The day passed without any memorable incident. Royal Christmas cards, puddings and Princess Mary's gift were issued to the Battalion, but all in all, it was a quiet day.
Bill told the Gazette: "After the horror of the Aisne and Gheluvelt - quiet must have seemed about as good as it could get."
Private Charley Cook: 11th Warwickshires
Charley Cook lived in The Nursery, Ross-on-Wye before war broke out. On Christmas Day, 1916, a Church Parade was cancelled due to bad weather.
On Boxing Day, six Military Medals were awarded to NCOs and men.
The following year, 1917, there was a divine service for the Battalion: Christmas dinner was given to the men, huts were decorated and the men were waited on by Officers and NCOs. Turkey, pork and vegetables were on the menu, and the soliders enjoyed a Christmas pudding afterwards.
Comments
To leave a comment you need to create an account. |
All comments 0