Colourful critters bring Ross crafters together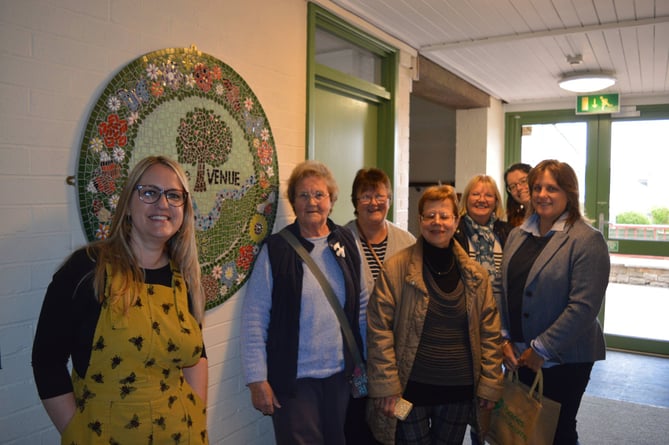 Rachel Shilston with fellow creators who contributed to the mosaic which greets visitors to The Venue.
Subscribe newsletter
Subscribe to our email and get updates right in your inbox.
Twelve Ross crafters—with the help of a veteran mosaic artist—have unveiled a shimmering new art piece which decorates the entrance to The Venue.
The presentation of the mosaic was revealed on Friday, May 29 by Lydney artist Rachel Shilston. The circular piece features a number of critters, including a hedgehog, a mallard, a butterfly, and a ladybird.
The work was put together by trained art teacher Rachel Shilston who runs Inspiring Creativity, based in Lydney Park Estate.
"Mosaic is the vehicle, but you can apply it to so many things," Rachel said. "The first couple of weeks were spent working on their own projects, so they all had something to keep and made a mosaic memory for themselves, and then the final five weeks of that nine-week project they all came together and worked collaboratively on a joint mosaic, where they all added their contribution."
She often delivers workshops in her own studio, but on this occasion made the journey out to Ross. She works with all corners of the community including primary schools, adults with dementia, mindfulness and mental health groups, young people, hen parties, and birthday parties.
Rachel is delighted with the result and told the Gazette that they worked incredibly hard to make the fitting memory and that the final piece serves as a legacy of that project that can be enjoyed forever by other people.
The weekly project kicked off around the beginning of March, and continued every Friday.
"What's been really lovely about it is not only have they learnt a new skill and have been introduced to a new craft, they become friends and are now meeting up regularly and that's what Clover is about, not only was it about learning new skills and engaging with other people, but helping people make new friends and feel included in something. Yes, the mosaic is a wonderful thing to celebrate in the end but there was so much more that was achieved in those nine weeks."
The Clover Project is an organisation which aims to increase the social prescribing options for people. Social prescribing is a way for GPs to diagnose and recognise when lifestyle changes or social connections might be a factor in the problems that people are presenting to GPs. It's a type of non-medical intervention for mental health.
Former Ross Mayor and chair of trustees and Ross Development Trust, Jane Roberts told the Gazette that the Clover Project, which was started a year ago, with £70,000 worth of funding, most of it through the National Academy of Social Prescribing, as well as other funders involved with the project—including Ross Town Council and Herefordshire Council. It brings together six Herefordshire organisations of which Clover is the lead. The others are: Herefordshire Wildlife Trust, ignite—which works with creative and physical activities for wellbeing, Active Herefordshire and Worcestershire, Taurus Healthcare—the NHS body which deals with social prescribing, and Rural Media—who have helped to track the Clover Project through video.
Cllr Roberts said: "Coming out of the pandemic it was really important. Everybody was a little bit low, it had affected people's physical health, people's mental health, and we were really fortunate in Ross to have the opportunity of a programme of such diverse activities that we put on through the Clover Project."
Comments
To leave a comment you need to create an account. |
All comments 0