The full trailer for the BBC's upcoming thriller series WOLF has been released, alongside a gallery of new images.
The six-part crime drama, part of which was filmed in and around Monmouth is based on Mo Hayder's acclaimed Jack Caffery novels and is produced by award-winning Hartswood Films (Sherlock, Inside Man) and APC Studios (The Light In The Hall). WOLF is coming soon to BBC One, BBC One Wales and BBC iPlayer. 
DI Jack Caffery is a young detective beset by nightmares. Obsessed with the neighbour he believes murdered his 10 year-old brother in the 90s, Jack finds himself trying to right the wrongs of others - but at what cost? In an isolated house in Monmouthshire, the wealthy Anchor-Ferrers family find themselves the victims of a psychopath's cruel games, trapped and terrorised. When the two narratives collide, it's a thrilling, nail-biting and deeply disturbing race against time.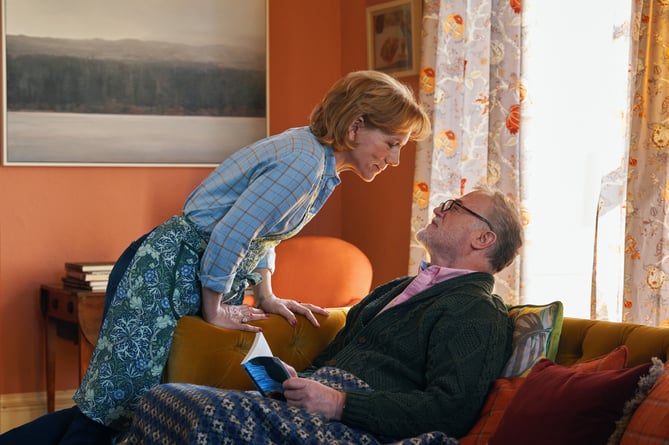 Juliet Stevenson and Owen Teale as Matilda and Oliver Anchor-Ferrers in WOLF
(BBC)
Written and adapted by Megan Gallagher (Borderliner, Suspicion), WOLF is led by Ukweli Roach (The Midwich Cuckoos, Blindspot, Humans) as DI Jack Caffery. He is joined by Sacha Dhawan (Doctor Who, Marvel's Iron Fist) as Honey, Iwan Rheon (Game Of Thrones, Riviera) as Molina – two mismatched professionals forced together on a job; Sian Reese-Williams (Hidden, Line Of Duty) as DI Lincoln, a woman with a case to prove; Juliet Stevenson (Out Of Her Mind, Bend It Like Beckham) and Owen Teale (Line Of Duty, Game Of Thrones) as Matilda and Oliver Anchor-Ferrers who find themselves in the centre of a siege with their daughter Lucia, played by Annes Elwy (The Light In The Hall).
WOLF (6x60)' is produced by Hartswood Films and APC Studios, in association with Creative Wales. Elaine Cameron of Hartswood Films, Laurent Boissel from APC Studios, creator Megan Gallagher and director Kristoffer Nyholm are executive producers alongside Rebecca Ferguson for the BBC. The first three episodes are directed by Kristoffer Nyholm (The Killing) and the final three episodes are directed by Lee Haven Jones (The Long Call).