School's chair of governors steps down ahead of review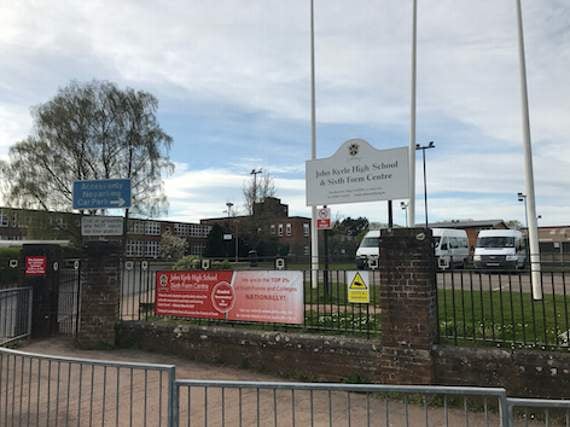 Subscribe newsletter
Subscribe to our email and get updates right in your inbox.
THE chair of the governing body at John Kyrle High School has stepped down from the Board of Trustees ahead of the completion of an "external review of governance".
The school has experienced a difficult year on top of lockdown, including a critical report from a tribunal that found a teacher had been unfairly sacked and a failed court challenge over a rival sixth form that cost £187,000 in legal fees.
In the wake of those issues, the school's Members and Trustees commissioned a review at the end of 2020.
A statement by the Ross-on-Wye academy school's Members, who oversee the work of the board, said this week: "While the report has yet to be finalised, Denise Strutt, our current Chair of Trustees, has reflected on how the school can best take forward any future recommendations.
"After constructive and helpful discussions with Members, she has concluded that it would be beneficial for someone new to be at the helm of the Board of Trustees to help any changes to be implemented.
"Denise has, therefore, made the difficult decision to step away from the Board.
"While it is our hope that a new Chair of Trustees from our school's community will ultimately be secured as Denise's replacement, a National Leader of Governance will shortly be appointed as the school's Interim Chair.
"The Members would like to thank Denise for all she has done during her six-year involvement with John Kyrle High School.
"It is clear that she cares passionately about the community and has always acted with the best interests of the staff and students at her heart."
A letter sent to parents and carers by the Members and Trustees at the end of last year said a review had been initiated to "forensically" exam the way the school was governed.
It acknowledged that the action was being taken following two legal processes, and would review the decisions that were made in relation to them.
An employment tribunal found that teachers' trade union rep and head of drama Jo Lucas had been targeted in a skewed disciplinary process aimed at getting rid of her.
It was also revealed in November that the school had incurred legal costs of £187,000 in a failed attempt to stop Forest of Dean school Dene Magna from opening a rival sixth form.
The letter outlining the external review thanked parents and carers for their support through the "challenges" of 2020 and for helping pupils "thrive" in such a difficult year.
But it added: "We must acknowledge that as a school leadership team we have not got everything right all of the time.
"One of the most important parts of a strong governance structure is to reflect on what hasn't gone well, and then use this as an opportunity to look at the lessons that can be applied for the future.
"Indeed, because of the outcome of two legal processes, this aspect of governance is at the forefront of our thinking.
"That is why we wanted to write to let you know that Members and Trustees have commissioned an External Review of Governance.
"This is a process that forensically looks at all aspects of how a school is governed – from the culture around how decisions are made, to the policies and procedures that set the framework for how governance in conducted.
"The review will be led by an accredited National Leader of Governance from outside of our local community.
"While this is not an unusual step for a school to take, it is an important one.
"Under the leadership of the Members, who are a group of individuals who sit above Trustees to ensure governance and leadership is robust, we are proactively looking at the outcomes of both legal cases to review the decisions that have been made…
"At the heart of the decision to conduct this review is one simple desire, we all want to ensure that JKHS is a brilliant school with much to celebrate…
"We will, of course, be as transparent as possible about the outcomes of the review and lessons that we will be taking forward."
A 70-page judgement by the tribunal hearing Mrs Lucas's case said there had been a "significant animus" between the school – particularly headteacher Mr Nigel Griffiths – linked to her activities as a representative for the National Union of Teachers.
"We concluded that this animus was inextricably linked to the claimant's trade union activities," it said.
While the school was right to investigate given its "strong concerns" about below-par drama results – which led to complaints from parents and some students not to go into sixth form – the way it went about it was not reasonable, it ruled.
"The Tribunal concluded that the manner of this investigation, in which the claimant's health was downplayed and deliberate misconduct issues maximised, was not an appropriate or a reasonably necessary means of achieving its legitimate aim."
Mrs Strutt said after the tribunal's ruling that although there had been failings, they were "not the sign of a systemic problem".
John Kyrle also defended its decision to pursue legal action over Dene Magna's expansion, saying it did it to try and "protect the sixth form", where each student generated an extra £8,000 of funding.
Comments
To leave a comment you need to create an account. |
All comments 0