Mizz Twisted Cherry Studios return with more than just burlesque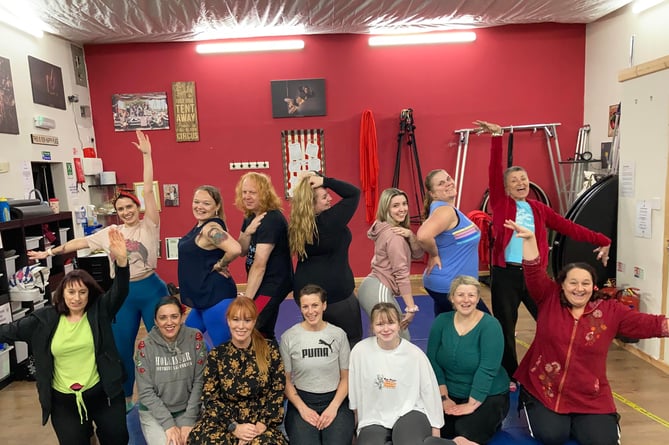 (Mizz Twisted Cherry Studios )
Subscribe newsletter
Subscribe to our email and get updates right in your inbox.
An award winning Ross-on-Wye dance studio is getting back into the swing of things post covid as well as finding new ways to expand.
Mizz Twisted Cherry Studios were unable to be fully open during lockdown and covid restrictions, but now they're back with a full timetable, and ready to dazzle Ross and beyond.
Starting from May there'll be a number of new classes starting up. One of these includes a mental health course which was put together to help people who are looking to improve their mental health and emotional wellbeing. Named the Cherry Tribe the class aims to improve mental health, emotional wellbeing, confidence and self-esteem.
The classes are not designed to replace conventional mental services, but work in addition to other treatments people might be taking.
Aerial hoop, aerial trapeze, aerial sling, pole fitness, and pole silk - where the silk is attached to the pole has become particularly popular. Students have enjoyed working up through the various types of aerial activities.
Burlesque classes are also starting back up, but has already sold out. In previous years the studio has put on shows at Monmouth's Savoy theatre, however whilst this is planned for the future, it is uniquely we'll see a show there during 2022. Smaller shows are planned at the Mizz Twisted Cherry Studios. The shows raise funds to be split between the studio and a chosen charity,
Mizz Twisted Cherry (Natalie) told the Gazette: "The studio has always been more than exercise and fitness. It's always been about emotional health and mental wellbeing as well. It's often what's the students come for and it's apparent that's what they need. It's not just about the aerial, but during lockdown I had no access to them personally but throughout that time, they still relied a lot on myself and the community that I created to give them that emotional support."
The Twisted Tribe is a four week course with a number of activities, including art therapy, to build self-esteem and confidence.
Another addition to the studios is called The Twisted Coven. The Twisted Coven is for people interested in Paganism and is designed to be another support network meet-up.
There were a number of people who expressed an interest in a spiritual aspect to the community around the studio, who wanted to share this outside of the aerial and mental wellbeing classes. Courses will include meditation, spell casting, brew making, wand making, ancient walks and all the things associated with being a witch.
The studio suffered a hard time during lockdown, with it having to intermittently close depending on restrictions, and at times, only able to teach up to six people in a class.
Comments
To leave a comment you need to create an account. |
All comments 0