A theatre which got its start in Ross celebrated its 20th birthday by putting on a dazzling show, featuring a number of veteran cast members.
The celebratory show took place at the Courtyard in Hereford, Saturday, August 20, to wow the crowd with a look back at 20 years of local musical theatre.
Director Steve Liddle told the Gazette: "It sounds corny, but the moment we were all on stage together again, we closed with our anthem, 'Seasons of Love', which we've doing together for years." He added: "We dedicated it to our producer Jane's husband (Chris Hewson), who passed away eight years ago, he used to build all our sets; he was a huge part of X-entricity. It was really lovely, emotional moment."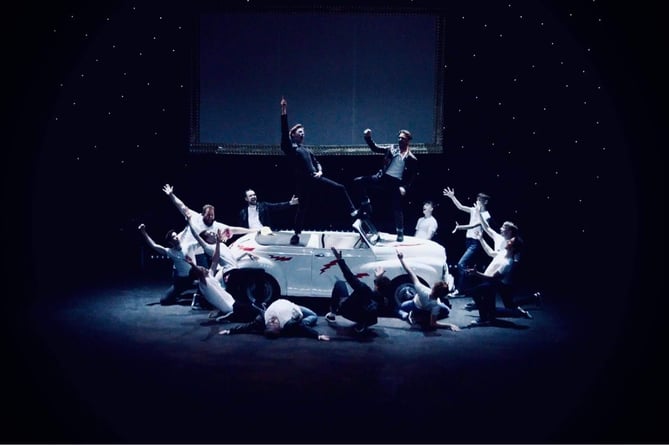 X-entricity Youth Theatre performing at their 20th birthday celebration show.
(X-entricity Youth Theatre )
A number of duets, trios, and small groups were delighted to be re-united and sing together after several years apart, reliving cherished moments from years past.
X-entricity Youth Theatre was born at the Larruperz Centre, on Grammar School Close, Ross-on-Wye, 20 years ago. Cast members from the last 20 years are making an appearance in the big reunion concert. The show includes musical excerpts from every musical theatre production they've ever done, with their original cast.
Twenty years ago, in 2002, the Larruperz youth theatre group which then went on to become X-entricity Youth Theatre was started. It was originally put together because there were no acting outlets for young people. At the time, the Larruperz Community Theatre was putting on big shows, such as "My Fair Lady" and "Me and My Girls", leaving lead roles for younger actors few and far between.
Inspired by the talent of the younger generation of actors, the Larruperz committee decided to launch the Larruperz Youth Theatre. Their first production was Godspell, with a 14-year-old Steven Liddle amongst the cast. He said: "We did the show and it went down an absolute storm. We just formed this wonderful bond and family and we decided that we couldn't say goodbye to the show now, we need to take it to other venues around the county. We sat in a room and formed X-entricity Theatre." The theatre was formed as a registered charity to recognise the acting talents of young people in Herefordshire.
They went on tour and haven't stopped since. The group's success exploded, with people from Hereford and Gloucester coming down to join the cast. The extravagance of the productions escalated along with the cast's popularity, with real cars being carried, by people, onto the stage at the Larruperz Centre. The cars amongst them were a New York Taxi and a Morris Minor.
Steve took over as director of the company in 2016 when he was just 18. During the company's production of Les Miserables in 2015, they were offered the chance to perform at the courtyard in Hereford. For a short while the company were performing between the two venues. With the sets growing increasingly extravagant and cast members coming from further afield, they decided to make the Courtyard their new home after they realised they weren't going to get a bus on the Larruperz stage for their production of "Priscilla Queen of the Desert".
During the company's production of Kinky Boots last year, the company had trouble casting for a particularly demanding lead, Lola, a singing, dancing drag-queen. The part required a range of talent including singing and dancing in heels, as well as a high range of vocals; six weeks into the rehearsal process the role was still uncast and eventually Steve had no choice but to don the high-heeled boots himself. Steve described it as the most nerve racking and rewarding experience of his life.