She spoke at a cross-party Welsh Affairs committee (Wednesday, February 8) about the devastation the Wye has suffered in recent years.
Also on the panel was chair of Surfers Against Sewage Jon Khoo and chief executive of River Trust Gail Davies-Walsh.
Following the meeting she said: "It was a daunting task but I so hope my honesty and passion showed through. After watching first hand how our Rivers and coastal waters are being used as open sewers by all , I can not stand by and allow this disrespect for our beautiful Natural resources to continue.
"My Office and Playground for over 40 years the Wonderful Wye is Close to ecological collapsed due to intensive poultry farming and sewage. This river crosses borders and deserves government to act immediately before its lost completely "
When asked about poultry farming at the committee she said: "Permission has has been given to do this intensive poultry 'farming'—this isn't farming, I've sat with farmers, I've sat with the EA, Natural Resources Wales—this is not about farming this is huge American companies coming over here, doing exactly the same as what they did. The data's out there, how they've decimated their own rivers and lake and now they've come here, because the regulators that are supposed to be out there to stop this and regulate those river's, are not regulating. The fines aren't out there."
She added that she's seen regulators take a complacent approach to actually measuring the quality of the river.
Only 24 hours following the meeting in Westminster, Angela attended the Senedd to listen to the "Climate change, environment, and infrastructure committee annual scrutiny of Natural Resource Wales".
She said: "While Natural Resource Wales chief executive Clare Pullman says she's 'excited by the future' the meeting clearly showed that it wasn't the funding aspect letting them down, it was lack of staff and specialists, there was no timescales for addressing pollution in our Rivers and coastal waters , An appalling enforcement record against polluters,
"A haze of trying to tick too many boxes while achieving nothing to protect our Environment. To sum it up NRW are spread so thinly, totally out of their depth, and were just about treading water. Total shambles I'm sad to say."
Angela has written and appeared on countless TV programmes including: Panorama and recently with George Monbiot.
Known as the wild woman of the Wye refuses to allow the death of her beloved River Wye by holding to account the many contributors who continue to pollute.
This current swath of environmental activism has made its way—not only to the House of Commons—but also the Lords.
Prime Minister, Rishi Sunak, faces a potential setback as members of the House of Lords prepare to oppose his attempt to remove clean water regulations that protect swimmers and wildlife.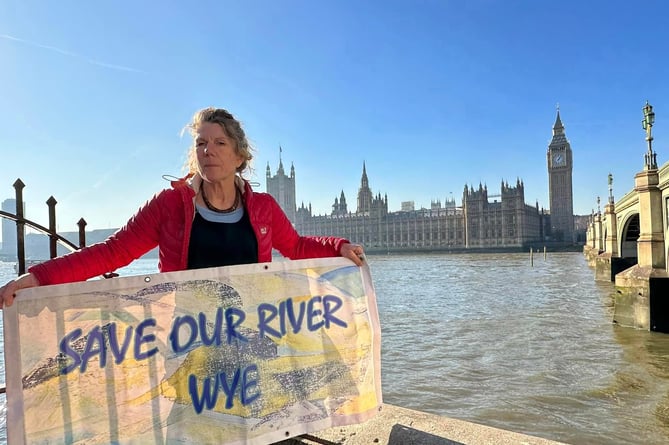 Sunak's efforts to eliminate both the Bathing Water Regulations and Water Framework Directive under the Retained EU Law Bill have been met with resistance from peers who seem determined to preserve the environment.
The proposed legislation is intended to strip about 4,000 pieces of EU law from British statute books by the end of 2023.
However, a Lords amendment has been tabled to ensure the two clean water regulations, which were introduced by Brussels when the UK was still an EU member, are not among them.
In 2021, the government was forced to reverse its position on the amount of raw sewage that water companies can release into waterways after a similar uprising led by the Duke of Wellington.
Conservative MPs are concerned they could lose votes in the next election due to their party's current policies on the River Wye. This comes as the Government faces defeat in the Lords over its plans to scrap clean water regulations designed to protect swimmers and wildlife. If the Government is defeated in the Lords, it would have to seek to overturn the decision in the Commons, which could heighten the threat of a Conservative rebellion there. The Liberal Democrats have been targeting Conservative constituencies impacted by waterway pollution; one such face-off could happen in Ross-on-Wye's constituency "Hereford and South Herefordshire".
Conservative MPs Jesse Norman, Mark Harper, and David Davies have all faced criticism for appearing to be complicit with their party's policies on the River Wye.
The campaign is also affecting local politics as plans to expand a chicken farm in Herefordshire were rejected by Herefordshire Council. Dave Pursey had requested permission for three new grey metal sheds with a total area of 6,700 square meters, which would house 120,000 broiler chickens, along with a feed bin, worker's building, new yard, and access at Trevase Farm, St Owens Cross west of Ross-on-Wye.