The 12-day MAD Challenge turned into a 'MAD rescue' when the group of five conducted four rescues during their journey. 
59-year-old Camilla Laing teamed up with four others, Geraint, Graham, Sarah, Carrie, on September 2 to hike, cycle, and canoe from the Lake District to Chepstow.
Camilla explained how the group always seemed to be "in the right place at the right time" as they conducted four rescues in total. 
Camilla said: "It was day two of our hike and we were on our way down from Scarfell Pike and we came across a ten-year-old girl sat cross legged on her phone. We asked her what she was doing and she explained how her parents told her to wait there for 30 minutes while they finished their summit to the top of the mountain. After deliberating we decided to leave the girl as she was adamant on staying put. 
"We must have only got 20 foot further down when we found an injured woman and her husband. We contacted mountain rescue after bandaging up her suspected broken ankle and assessing her injuries. Just as we were about to leave the couple, we heard screams from help from up the mountain. We found the little girl hysterically crying. Her parents had been longer than 30 minutes and she had got up to look for them and got lost. Eventually her parents came down and they just seemed so confused why we were so concerned. I told them how differently that could have ended. I told them their daughter could have been seriously injured or killed but it just went straight over their head. 
"It just seemed like fate that we had come across this injured woman and stayed with her to help long enough to hear the girl screaming for help. If we weren't there, no one would have heard her."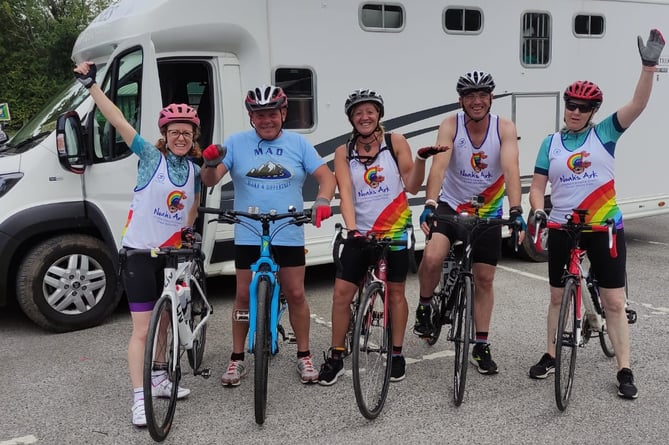 Their third rescue happened as one of their team members, Carrie, had a puncture in her front tire and fell off. She injured er arm and took the skin off of her shoulder, back and face and was taken to hospital. She was unable to continue with the challenge. 
On the final leg of their cycle, the group came to a halt when their was a loud bang followed by one member shouting "there's been an accident. Come back."
Camilla explained: "When I heard them shout that there had been an accident, I knew Geraint was stood where the noise came from and I thought they'd hit him. 
"When we came round the corner, there was a car which had smashed straight into the side of a house and in through the living room. We calmed the patients down and made sure they were alright while waiting for the ambulance to arrive. 
"The paramedics asked if we were a group of nurses because there wasn't anything left for them to do but take them to hospital. We explained how we were just in the right place at the right time, again! Somehow. We just though 'please no more rescues."
They originally planned on spending four days hiking up the four highest peaks in England, Skiddaw, Scarfell, Scarfell Pike and Helvellyn. Cycling for four days for 200 miles from Kendal to Herefordshire and canoeing for the final four days 100 miles of the River Wye from Hay on Wye to Chepstow. However, they managed to do two of the peaks, Scarfell and Scarfell Pike in one day.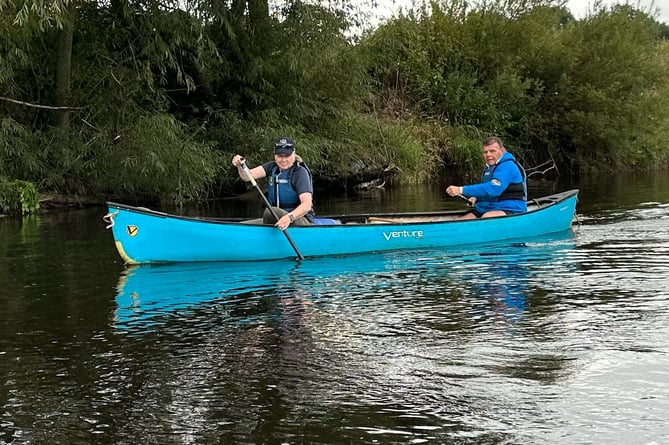 Camilla and Graham
(Camilla Laing )
Reflecting on the challenge in an interview with the Chronicle, Camilla said: "We just got absolutely so lucky with our team. It's always a risk doing something like this with a group of people you don't completely know but apart from the occasional stress-induced bicker, we all just supported each other."
She describes one team member as an "absolute legend" for the kindness and support he gave out during the 12 days. Geraint Fisher is the husband of Kath Fisher, community fundraising manager at Noah's Ark Children's Charity and father to Evie Fisher who was born with a rare kidney disorder and is a lifetime patient of the hospital.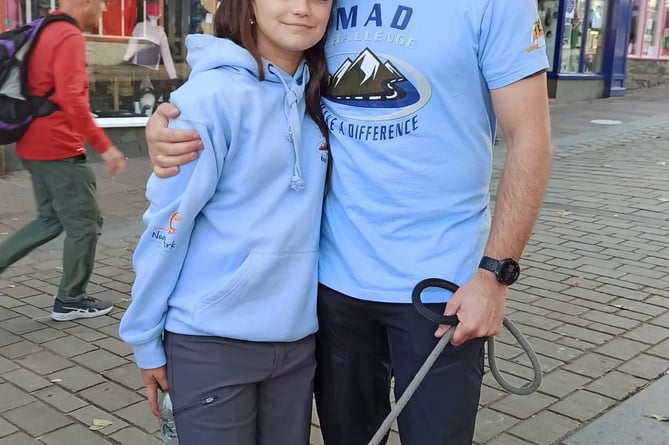 Geraint Fisher and his daughter, Evie
(Camilla Laing)
Camilla said: "Geraint was incredible the whole way through. He is just the kindest, most supportive man and was a real legend to have on the team. He knew what he was doing and I'd have been lost without him."
She asked Geraint half way through the challenge if he would do the next one and his immediate answer was yes. 
"The entire team had qualities that just helped the whole way through. I'd be going up mountains at times and thinking, I'm never going to get to the top. I'd be scrambling up the hill and I'd slip back and then I'd look behind me there would be a hand. And there would be Carrie."  
"Or there were other times where I felt I couldn't do something and Sarah would be behind me saying 'you can do this, you can do this.'
"The whole team has been amazing."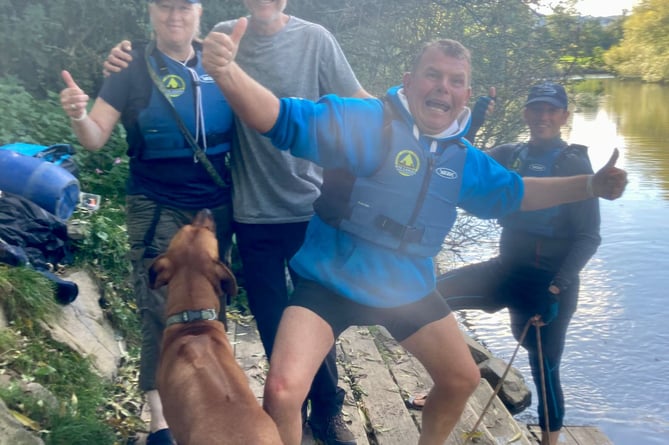 Initially, Camilla wanted to split the money raised between a different charities focused on children and animals. 
"I knew I wanted to raise money for Noah's Ark after seeing the cancer care my niece, Ava, received when she had leukaemia at four years old and then again three years later. 
"I'd planned to also give some money to other charities but after I met Kath Fisher and heard about Evie's story, I decided to give them all of the money. "
So far they have raised approximately £22,000 with money still coming in through their JustGiving page: https://www.justgiving.com/fundraising/mad-challenge20231. £16,000 of this total has been raised solely by team member, Graham.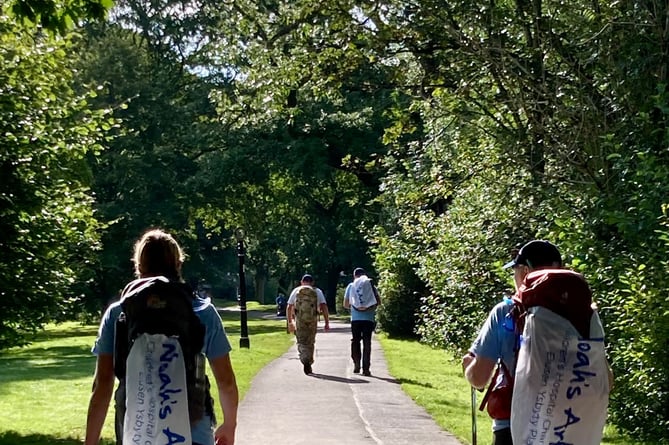 Some of the local businesses who Camilla says "made all of this possible with their generosity" are Ruffwear, Nutravet, Wye Adventures, Crickhowell Adventures, Rockfield and By The Wye Glamping and Enduo and Wolfys. 
"Local businesses have been amazing through this. From giving us entire camp sites for the night, covering the costs of the entire canoeing element and supplying equipment free of charge.
"I've been absolutely overwhelmed by the amount of support we've received from local businesses."