The town is determined to demonstrate its support for people living with dementia and their families.
The week of engaging activities will commence with an inviting Afternoon Tea on Monday, 15th May at the Ross Community Garden. The event, scheduled for 2pm to 4pm, offers a relaxing atmosphere to enjoy good company, delectable tea, and delicious cakes. Those wishing to attend should email [email protected] or phone 07972624378 to book.
A special church service at St Mary's Church will be held on Tuesday, May 16, from 11am to 1pm, followed by refreshments. For additional information, Derek Glover can be contacted at 01989 565167.
On Thursday, May 18, a lively Tea Dance, hosted by Ross Meeting Centre at the Larruperz Centre, is set to take place from 1pm to 4pm. Book online or call 01989 313002.
Film enthusiasts are invited to a screening of the classic Love is a Many-Splendored Thing at the Phoenix Theatre on, May 17. Doors open at 1.30pm for refreshments ahead of the 2pm screening.
On Saturday, May 20, starting at 10am, a market stall will provide information about Ross's commitment to becoming a more dementia-friendly town. To find out more, contact Elaine from Ross Meeting Centre at 07506 992971.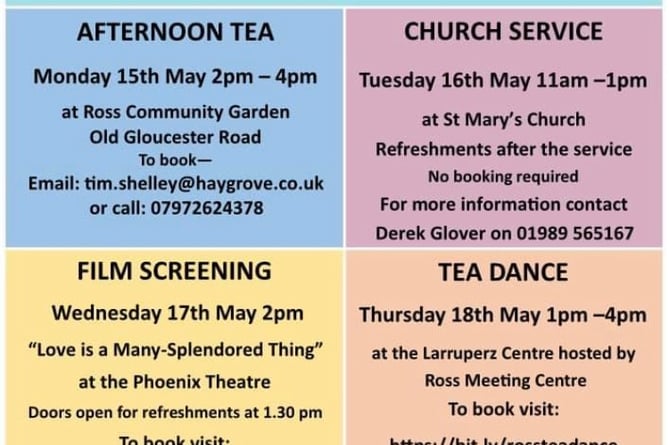 (Dementia awareness week)