House of Lords Committee visits Herefordshire to find out about the rural economy
Thursday 13th September 2018 10:00 am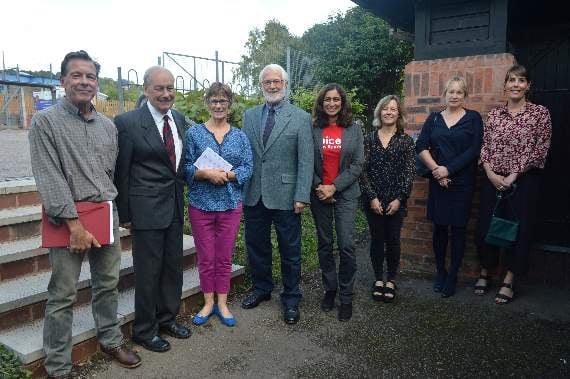 Representatives invited to attend the afternoon meeting and give their thoughts on the rural economy, were, from left to right: Kevin Braybrook (Parish Councillor), Derek Colley (Trustee of the Fownhope Memorial Hall), Sarah Coomer (Compassionate Community Scheme), Ian Quayle (Chairman of the Fownhope Memorial Hall), Rayeesa Asghar-Sandys (Rayeesa's Indian Kitchen), Jaine Yule (Solarkinetics Ltd), Hannah Dale (Canwood Gallery) and Anna Straker (Fownhope Medical Centre).
Subscribe newsletter
Subscribe to our email and get updates right in your inbox.
Better physical and digital infrastructure alongside improved access to skills will enable further growth of the rural economy in Herefordshire, members of the House of Lords Select Committee on the Rural Economy learned on Wednesday, September 12th, 2018.
On a visit to Herefordshire, where they met representatives of business organisations, council leaders, business owners and local residents, the Committee heard of many success stories – from businesses developing night vision equipment to food supply chain software provider – but also of the challenges facing further growth or the establishment of new businesses. Among those businesses were Muddy Boots Software, Westons Cider Mill, KGD Limited, Naked Creative, Caplor Energy and Sun Velo.
The Committee plans to make recommendations to government about measures which will help benefit the rural economy in England.
Chairman of the Committee Lord Foster of Bath said: "As in many other parts of the country, Herefordshire's rural economy is doing well, helped by close working between bodies such as the Council, Local Enterprise Partnership and the Chambers of Commerce. The planned new Engineering-focused university in Hereford will provide further stimulus for growth. But the expansion of existing businesses and the establishment of new businesses is hampered by unreliable infrastructure, with a strong call for better mobile and broadband coverage.
"At the same time, we heard that agriculture remains the backbone of the rural economy but is also facing challenges, not least in attracting new recruits with the technological skills now needed in the industry."
In the afternoon, local representatives got a chance to tell Lord Foster of Bath their thoughts on the rural economy, at a round table held at Fownhope Memorial Hall. Also present for the meeting were, Baroness Rock, Baroness Humphreys, Baroness Pitkeathley, Baroness Mallalieu, Lord Colgrain, Earl of Caithness, and Roger Britton from Community First.
Rayeesa Asghar-Sandys (Rayeesa's Indian Kitchen) said that Herefordshire is great for food, and there is such a buzz at the moment. She said:?"There are lots of new, exciting, independent producers, Don't know if you've heard of Beefy Boys?" She said she would like to promote more food tourism in the county.
Parish Councillor, Kevin Braybrook, added that he would like centralised funding, to promote county-wide tourism.
Derek Colley (Trustee of the Fownhope Memorial Hall) also said that tourism is the biggest scope Herefordshire can offer. He suggested that discarded railways should be developed into cycle tracks. He said that this would take money to acquire, but not a lot to maintain, and would be much safer for cyclists to ride off-road.
Rayeesa Asghar-Sandys continued that her cookery school is located in a very rural area, and one of her main problems is transport. She believes this needs to be improved, perhaps with smaller minibuses in rural areas, or hoppers with shorter routes.
Anna Straker (Fownhope Medical Centre) added: "It deeply worries me, the amount of taxis arriving for appointments."
Anna also said that although volunteers are fantastic, there are too many cuts to statutory services that can't be solved by volunteers, such as mental health etc.
Another concern mentioned was the increasing number of older people in the village. Jaine Yule (Solarkinetics Ltd) said she would like there to be more opportunities for teenagers, so that they may stay in Herefordshire.
Sarah Coomer (Compassionate Community Scheme) added that there is a "huge aging population" with not enough elderly care homes.
Hannah Dale (Canwood Gallery) added that funding for the arts is vital. She said that her gallery (which is free to enter) can not continue without funding. She explained the important benefits of the arts, including mental health and wellbeing. Her gallery is very quiet, with very little light pollution - but it needs support to continue running.
She said that more rural art galleries are needed and London galleries need to support them. She added that the cost of a family travelling to London to view art is too expensive.
The Lord Foster of Bath thanked everyone for sharing their views and said that he had enjoyed a very stimulating, interesting day, with such hospitality.
He invited the representatives to email him if they had other concerns that they were unable to share during the meeting.
Comments
To leave a comment you need to create an account. |
All comments 0