King Charles III has been crowned in a lavish ceremony at Westminster Abbey attended by world leaders, UK dignitaries, everyday heroes and a smattering of celebrities.
Charles became the 40th reigning sovereign to be crowned at Westminster Abbey, the nation's coronation church since 1066, as Archbishop of Canterbury Justin Welby placed St Edward's Crown on his head and proclaimed: "God save The King!"
The historic moment, watched around the globe, was a fulfilment of the King's destiny, but followed the death of his mother, Queen Elizabeth II, last September after a 70-year reign.
The coronation was a deeply religious ceremony steeped in symbolism and its prayers took the theme of "Called to Serve", an attribute associated with the late Queen who pledged her life to the Commonwealth.
Before the crowning the archbishop delivered a sermon to the 2,300 guests.
Mr Welby began by telling the congregation: "We are here to crown a King, and we crown a King to serve.
"What is given today is for the gain of all. For Jesus Christ announced a kingdom in which the poor and oppressed are freed from chains of injustice. The blind see. The bruised and broken-hearted are healed."
In a break with tradition, the Prince of Wales was the only blood prince to pay homage during the service.
Kneeling before the King, he said: "I, William, Prince of Wales, pledge my loyalty to you and faith and truth I will bear unto you, as your liege man of life and limb. So help me God."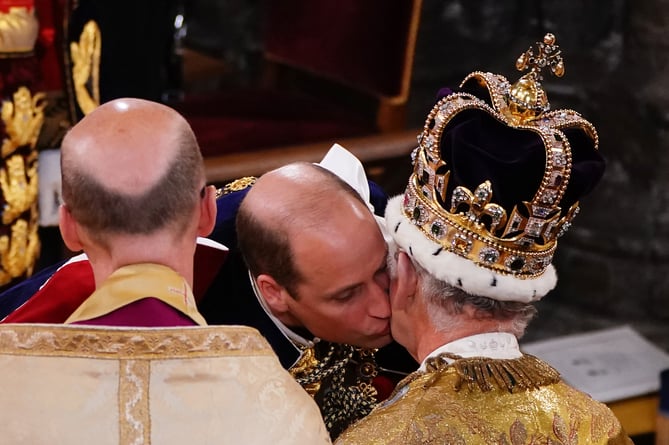 The Prince of Wales kisses his father King Charles III during his coronation
(Yui Mok/PA Wire)
William appeared to avoid eye contact with his father through much of the homage. He kissed Charles on the cheek and the King was seen to say a few words to his elder son.
Guests inside the Abbey included singers Lionel Richie and Katy Perry, who will perform at the Coronation Concert at Windsor Castle on Sunday, and ITV presenters Ant and Dec.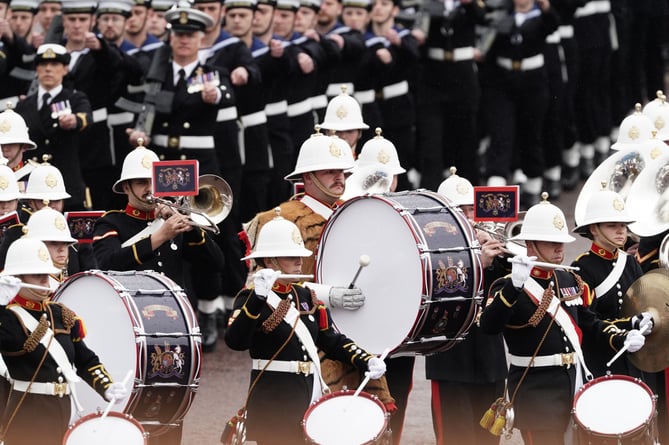 Members of the military ahead of the Coronation of King Charles III
(Jordan Pettitt/PA Wire)
Later as Andrew Lloyd-Webber's coronation anthem was sung, the Queen was officially enthroned.
The enthroning of the Queen was a moment in which Charles and Camilla were "united in their joint vocation before God".
French President Emmanuel Macron attended to show his "friendship, respect and esteem" for the UK.
Prime Minister Rishi Sunak gave a reading, Charles's grandson and future head of state Prince George acted as one of his pages of honour alongside three other schoolboys, while Camilla was attended by her three grandsons and her great-nephew.
The 33-minute journey to Westminster Abbey from Buckingham Palace began with the tri-service Guard of Honour outside Buckingham Palace's gates giving a royal salute, as the King and Queen's Diamond Jubilee Coach first emerged, and the national anthem was played by a military band.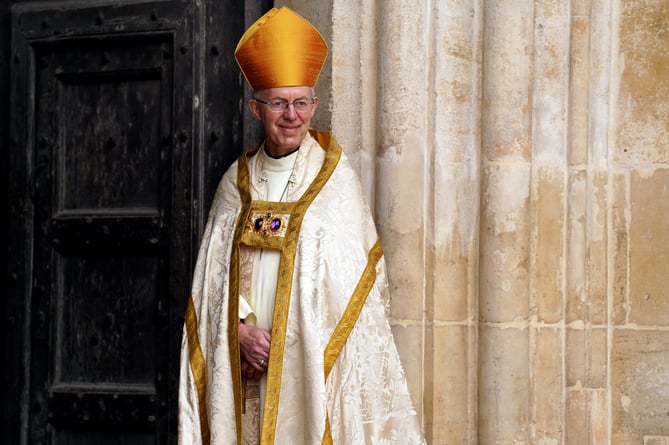 Archbishop of Canterbury Justin Welby at Westminster Abbey ahead of the Coronation of King Charles III
(Andrew Milligan/PA Wire)
Huge Union flags and others from Commonwealth nations flew from poles in The Mall and Charles and Camilla's route was lined by guardsmen in their distinctive red tunics and bearskins.
Seven former prime ministers attended the coronation, including Liz Truss, whose brief tenure in No 10 included the late Queen's death and the King's accession.
Ms Truss followed her predecessors Boris Johnson, Theresa May, David Cameron, Gordon Brown, Sir Tony Blair and Sir John Major into Westminster Abbey.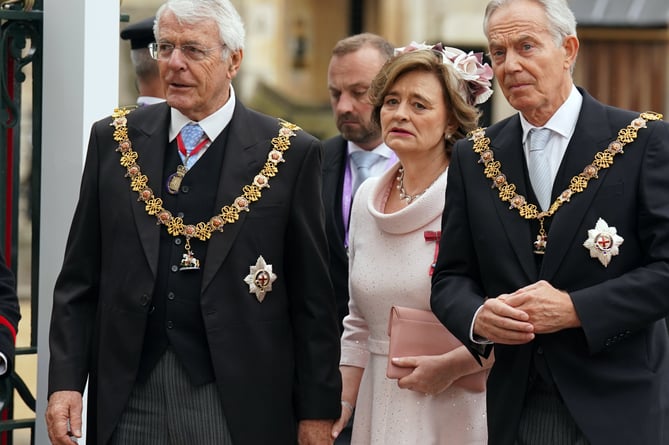 Former Prime Ministers John Major (left) and Tony Blair (right)
(Andrew Milligan/PA Wire)
The UK has seven living former prime ministers for the first time, a sign of the political turbulence of recent years.