Earlier this month 16 members from Spirit of Monmouth running club took part in the Fountain 5 – A challenging trail race in the beautiful Forest of Dean  Runners took on the  5 mile trail race through the woods around the village of Parkend .
Monmouth Ladies team made up of Lucy Macdonald, Vicky Roberts Linsey Holt and Trina Sami-Brown  took podium place coming 1st ladies team home in the hilly trail challenge. Lucy and vicky worked well together throughout the race, with Lucy giving lots of encouragement and confidence throughout, as did Linsey and Trina supporting one another up the steep tracks, even taking a tumble down the hill, the ladies still managed to get back up and make a storming finish to take the team prize. 
Barry Burns led the men and womens spirit team at the front coming in 1st spirit with a super time of 39:17. This got Barry a brilliant age category placing of 2nd place and i 13th position overall. Martin Blakeborough gained pace throughout passing several team mates coming 2nd spirit home in the time of 41:40 3rd in age category. .  Stuart Morris was on Martins tail skipping over tree roots and brambles making it look easy and crossing the line at 41:57. Brian Evans chased fellow team mates and crossed at 42:00. Andrew Jackson came in at 43:16  followed by Phil Chadwick  44:54. Jeremy Creasy next with  46:11. Lucy came in next spirit,  joint with running partner Vicky at 46:19. Maixient Gaillard came close behind  in  47:11. Nick Sloper in at 48:25.  Trina had a great run crossing at 51:06 working together with  Linsey sprinting up the finish line making 51:09,  Andrew Hillis was on their toes coming 51:12 with  Bernie Cloete enjoying the tough race finishing 1:02:23. 
Marina Wright and her 4 legged friend Nelly took part in the Cani Fountain 5 race, with Nelly eager to go and Marina with a smile on her face they managed to cross the finish line in  46:20 making them  3rd female and 2nd in age category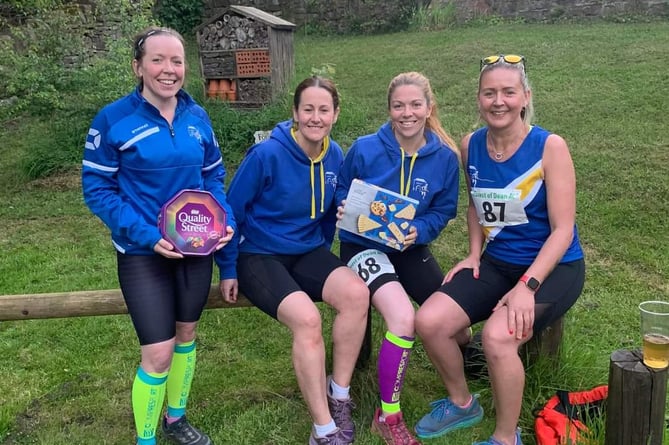 On bank holiday weekend Sunday 28th Nick was flying the flag again for Spirit at the Crocodile 8 alongside club mate Anika Farrar. The was  race described as  not for the faint hearted with a tough terrain over 8.8mile long. An almost vertical 1 mile stretch in the middle which is known at the 'crocodile' steps . 
Nick finished well with a time of 1:25:48 coming 98th out of 201 and 12th in his age category MVET  50. Anika had a brilliant run also coming in at 1:36:50 making her 6th in her age category FVET 35
Are you interested in running and fancy joining a local club  ? Please take a look at Spirit of Monmouth's running club website https://spiritofmonmouth.co.uk/
or contact  for more information [email protected].  Spirit are a friendly and fun club – with a nice competitive edge, and a great social heart. Also Spirit of Monmouth are affiliated to Welsh Athletics and cater for a wide range of running abilities. So, whether you're an experienced marathon runner, 5K lover or you prefer to just run for fun, you're very welcome to join.