Vanessa Ruck, otherwise known as 'The Girl on a Bike' is a high-profile rider, adventurer and presenter based right here in Monmouthshire. She offers totally free #BecauseICan workshops to UK schools and we think it's time she visits some in Monmouthshire.
After a tragic accident on her pushbike followed by 7 surgeries over 7 years, Vanessa discovered the world of motorcycling, and just as importantly the thrill of exploring the world on them. As a rider she's pushing the boundaries in a huge array of motorcycle disciplines, and you might recognise her from our previous articles. From full blown desert rallies, to hard enduro and road touring, to knee down track days, and trials. If it's got an engine and wheels, Vanessa will be excited. But Vanessa is not just about tearing it up on two wheels. From the darkest moments in her mental and physical recovery, Vanessa's soul ignited to help others from the lessons she learned, primarily through schools and aiming to inspire the next generation.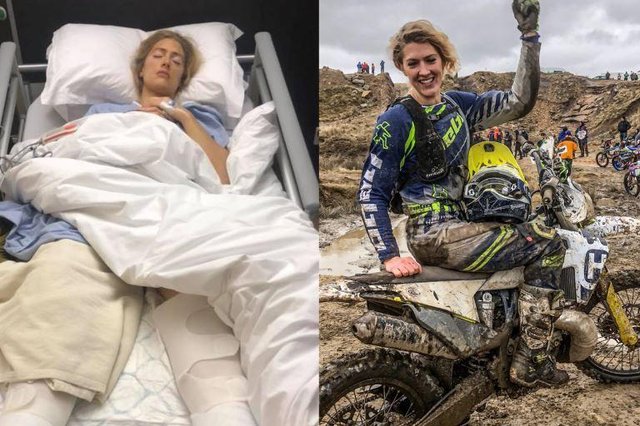 Vanessa Ruck following her accident
(Vanessa Ruck)
Vanessa is on a mission to show that nothing is impossible if you work hard enough, even as a slightly reconstructed person following the accident. Instead of adding to the sometimes-toxic media landscape filled with 'all so perfect' lives, she's real and honest, sharing the highs and the lows. Showing the strength needed to come out stronger against life's curve-balls. She believes it's about realising that wanting to quit is normal, that anxiety and stress can be overcome and that with the right mindset and strategies anything is possible. Born from real life experiences, she brings highly relatable lessons and tools to help face the battles and challenges of life.
With fresh 2023 energy, Vanessa has set the goal of talking to over 10k students this year, and January saw a strong start. Visiting 7 schools around the UK, she's already touched the lives of nearly 2,000 students. However, as a Monmouth based rider, we'd love to see her speaking to our own youth.
As a force to be reckoned with, she's a rider, racer and adventurer living with ongoing pain, and is determined to make the most of every day despite her past, and help others do the same. Vanessa will join any school at zero cost to share her energetic real life experiences following her life changing story from accident to becoming one of the most known female motorcycle riders in the world.
In a world of doom and gloom it's refreshing to see some positive energy being spread. Vanessa will visit ANY UK school and share these free workshops so please share with anyone connected to schools and let's help me spread the word.
"I might not be changing the world, but I hope one session at a time, I can help inspire some of our future generations to set their sights on the stars! Anything is possible!" says Vanessa
Failing is not falling down, we all fall sometimes, failing is not getting back up!
Born from real life experiences that Ms Ruck has had, the sessions bring highly relatable lessons and tools to help better equip youths, and adults alike, for the battles and challenges of life. Vanessa has delivered inspiration talks to thousands of pupils during her free visits to schools across the country. Let's get her into our local schools! For more information search "Vanessa Ruck #BecauseICan workshops".
"Just wanted to say a huge thank you for the time and energy that you gave to the students. The assemblies were brilliant – they developed your inspirational story and then made it very relatable to how students can use mindset to achieve goals. Vanessa's obvious enthusiasm for life and her inspirational story connected with students and helped them to think about their own life goals and barriers to success . The workshop was particularly powerful and Vanessa worked empathetically with the groups to discuss their aspirations and plans. It would lovely if you could revisit"
The workshops deliver practical advice and focus on:
Learning to accept your situation and love yourself
Importance of talking about mental health
Reality that life does have challenges and battles – it's normal
Working on outcomes, not the process, with goal setting to keep you focused and motivated
The importance of understanding the facts in the situation and pushing aside the 'noise' when anxiety hits
Remembering that wanting to quit is normal – but what makes you extraordinary is not quitting
That FEAR is just False-Expectations-Appearing-Real
Dealing with pressure
Importance and benefit of gratitude
Being part of the solution and a overcome mindset
By the end, the students are challenged to come up with their own #BecauseICan goals.
For further information, including booking a school visit for your school, please contact Vanessa on: [email protected]