In a move reflecting the evolving demands of the UK housing market, Barratt David Wilson Homes (BDW Homes) has submitted a significant amendment to a planning application for the Hildersley Farm housing development in Ross-on-Wye.
Application P232605/AM proposes to replace the Abbeydale house types at plots 106, 112, 151, 152, and another 152 with the Eckington house type. This change is driven by the Abbeydale house type's dwindling sales across the UK, leading to its removal from the BDW house type range.
The Eckington house type, believed to better align with current market demands, boasts a slightly smaller footprint, with a decrease of 5.95 per cent compared to the Abbeydale. Notable external modifications include an additional window on the rear elevation, the removal of the utility room door on the side, and an extended garage porch roof on the front elevation.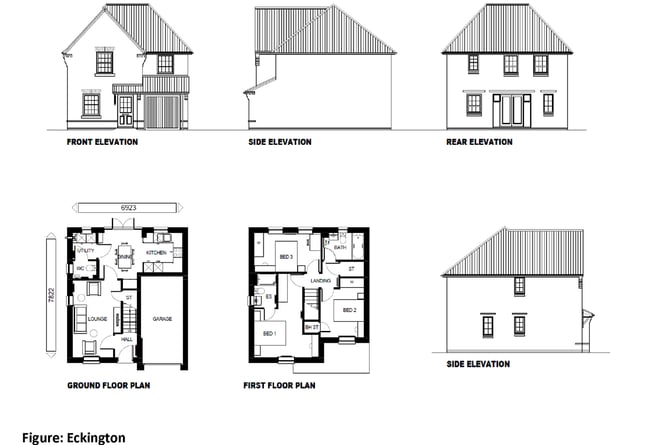 The Eckington house design
(Herefordshire CC)
The original planning permission, referenced 210374, had proposed the development of approximately 212 dwellings, including affordable housing, public open space, and associated works at Hildersley Farm. The current amendment seeks to vary the wording of Condition 1 (Approved Plans & Drawings) of this approved planning application.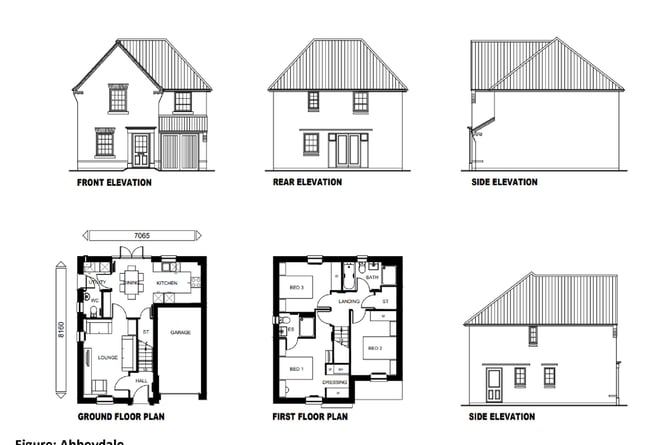 The Abbeydale house design
(Herefordshire CC)
Ms Kelly Gibbons, from the Development Management Team at Herefordshire Council, received the application on Tuesday, 29th August 2023. The council's consultation period commenced on Friday, 1st September 2023, with a target determination date set for Monday, 25th September 2023.
In a letter dated 29th August 2023, BDW Homes provided a comprehensive list of the previously approved plans that are now superseded by the new proposed plans. They also highlighted the differences between the Abbeydale and Eckington house types, which they believe would better cater to the current demand and preferences of the local market.
The Government does not provide a statutory definition of 'non-material', leaving it to the Local Planning Authority to determine. BDW Homes asserts that the proposed changes do not cause a detrimental impact visually or in terms of local amenity, making them non-material.
Residents of Ross-on-Wye Town, particularly those in the Ross East ward, are encouraged to review the proposed changes and participate in the consultation process. The outcome of this application could shape the future housing landscape of Hildersley, reflecting the evolving needs and preferences of the local community.
For those interested in a detailed comparison and further information, the application and associated documents are available for viewing on the Herefordshire Council's planning department portal.