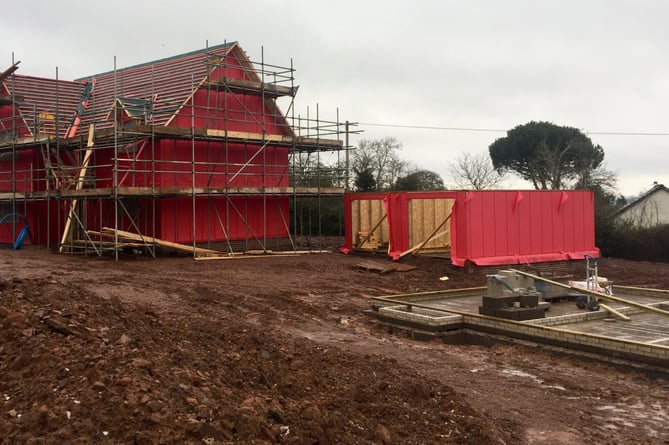 Subscribe newsletter
Subscribe to our email and get updates right in your inbox.
A COUNCILLOR who accused a parish council of operating like "China or Russia" before leaving a Zoom meeting last summer has resigned his seat.
In his resignation letter to Llangarron Parish Council's clerk, Paul Hodge claimed that his fellow councillors were merely serving their own interests.
"For a long time, I have been dismayed by the way (Llangarron Parish Council) operates," he wrote. "It is dominated by a large group of councillors from the wider Llangarron village community who are friends and have the majority vote on all council decisions."
He also claimed that parish council chair Sylvia Matthews "acts at times as if she is running her own private business rather than acting as a balanced non-partisan chairperson".
Mr Lodge, who lives in neighbouring Llangrove, said that he had originally joined the parish council nearly five years ago "to try to stem the extensive flow of new housing coming into Llangrove village".
Under the new neighbourhood development plan (NDP) being developed for the area, "the distribution of housing was very unfair", he wrote.
Coun Lodge walked out of an online parish council meeting last July, saying it was behaving "like a one-party state" over the NDP issue.
"I have tried to be balanced and representative in expressing opposing views in meetings which speak for many in our community whose opinions need to be heard," Mr Lodge said.
"However, this has rarely been demonstrated by my fellow councillors or been evident in council meetings."
Llangarron Parish Council was approached for comment about his resignation.
At the time of Mr Lodge's 'one-party state' comments, Cllr Matthews hit back by claiming he had made "untrue and unfair accusations" and subjected her to "extremely rude comments".
Some claimed that the delay in finalising the NPD was opening the door to land speculators and house building, with Llangrove "overwhelmed" after seeing more than 40 new homes being recently built or approved.
Mr Lodge told last summer's meeting his views were being ignored and said the discussion could be in breach of rules.
The council chair said his views on the NDP were usually at odds with other members.
But Cllr Lodge hit back, saying: "That's not true, it's a little bit like a one-party state.
"It's a little bit like China or Russia in the way this operates, it's not a democracy at all."
Coun Matthews accused Cllr Lodge of being "rude", and said: "If we look at the votes, they've all been done publicly and they've all been by majority."
She said: "There's been a lot of nonsense going on like Llangrove versus Llangarron, it's not about that, it's about protecting every single one of our tiny villages – that's what this NDP is about.
"It's unfortunate Coun Lodge continues to make untrue and unfair accusations and be rude, and yet other people treat him with the upmost politeness and respect, as I always do.
"I am repaid with extremely rude comments."
Following his resignation, local resident Angela Farr posted on the Herefordshire Politics and Local Democracy Facebook group that Mr Lodge "has been the most proactive councillor always listening to the community and always taking up the cause for all those in need".
Denise Lloyd added: "Are (county councillors) so used to this type of conduct at other meetings they just assume it is the norm?
"I am surprised they do not at some stage step in and say enough is enough!!"
County councillor Tracy Bowes (Independents for Herefordshire, Belmont) replied: "We have no power in a parish council meeting. We do raise complaints under the (county council's) constitution but they are investigated by the monitoring officer.
"Believe me I wish the constitution had the power to remove (parish) councillors. Unfortunately despite lots of us raising issues, it isn't with the power of the constitution."
Meanwhile, a referendum in the south Herefordshire parish last week strongly backed the NDP, drawing 391 votes (88 per cent) for it and 51 against, on a turnout of 48 per cent.
The NDP shows there have been 31 new houses completed in the parish since 2011, and a further 65 housebuilding "commitments" – yielding a figure of 32 houses above the minimum housing target set out in the county-wide Core Strategy up to 2031.
Comments
To leave a comment you need to create an account. |
All comments 0