One of Ross-on-Wye's top acrylic carving artists has published previews of her newest piece, which has already received interest of the town's art scene.
Artist and printmaker Tara Slater, currently a featured creator at Made in Ross, has been carving out intricate pictures of jellyfish in her latest work.
The medium, known as paint carving involves carving into many layers of acrylic paint, usually between 40 and 85, that have been layered up on a board. The layering can take between 10 and 30 days at around three layers per day with multiple colours; each carving is unique.
Layers of blues, greys, browns, and whites have revealed an elegant scene of the see creatures which, whilst not yet complete, has many of her social media followers keen to see how the finished piece turns out.
The piece is what's known as a paint carving, around 80 layers of acrylic paint in four colours with a paint poured background.
It took Tara around a month to layer up all the paint before doing the paint poured background.
It then needed a month or so to make sure it was really fully cured.
She told the Gazette: "It's taken about a week of carving so far and I think probably about another two days before it's complete."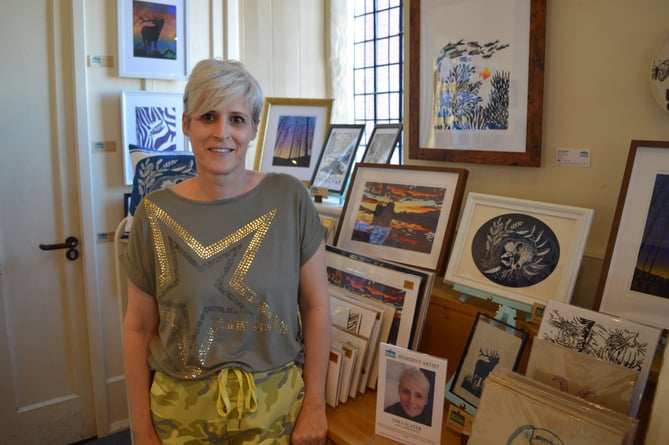 Tara Slater with her works at the Private View exhibition
()
Her recently launched website features a gallery of Tara's other prints with more being added. Tara was inspired to elevate her art from a hobby she loved, to a career that brings her daily joy, at the beginning of the Covid-19 pandemic.
She said: "I wasn't sure at first which direction my art would take, but rediscovering printmaking quickly answered that question. I combine my joy of carving with my love of animals and the natural world, exploring through carved lines and colour my own personal connection to the world."
Inspired by the natural world and a love for animals, Tara carves images in both lino for printmaking and into layers of acrylic paint, creating relief carvings. Her lino printings are transferred onto lino and then carved to create a relief. The relief is then covered with printing ink and transferred to paper using pressure, either by hand or by press.
Tara is one of the featured artists at Made in Ross. An art collective which aims to promote local artists. All featured artists' works, including Tara's, can be found at Ross Market House.