Ross team see Ukraine devastation first hand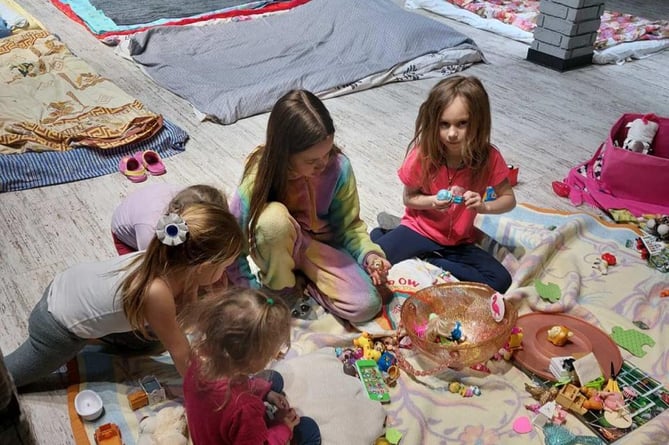 Subscribe newsletter
Subscribe to our email and get updates right in your inbox.
The Ross businesswoman who organised the highly effective aid operation for Ukraine saw first-hand the effects of her work.
Katie Fowler has been running the Ross hub for the Ukraine appeal and continues to send aid out to the country.
With her help a Ukrainian family were able to escape and safely make it to the UK. They're now adjusting to their new situation.
Katie and four others made the journey to Ukraine to deliver supplies first hand. They travelled to Suceava in Romania, which operates as a staging area before supplies make it across the border. Since getting supplies across the border is difficult, the team made the journey themselves and spent 24 hours in Ukraine.
They visited the refugee centres that were helped by the campaign, as well as the orphanage for disabled children (pictured) which also received help. The team met up with the woman who delivers supplies into more dangerous areas and loaded her up with further aid to be taken in.
They hope to raise money for a minibus to help take people out of dangerous zones. Transport in Ukraine is less than ideal as Russian forces have either stolen or destroyed most of the usable vehicles. The plan is to get the minibus soon, so that they can return in June. Katie and her team are currently using a hired van, as well as a van provided by two interpreters who are part of the team. The interpreter's van has seats in the back—and as such—a couple who were in Romania could be taken to a parents' house in Poland.
They try and take in a vehicle with seats where possible, so that as aid supplies are dropped off people can be taken back out in one journey. The aid is currently going to help 200 refugees and 48 disabled orphans and without the help of the team at Ross, they would be completely cut off from supplies.
Shipments of aid are still being sent weekly, and the regularity is essential for those who rely on it to survive. Whilst artic lorries have been sent over with aid in the past, it's difficult to achieve. Although donations are not drying up, Katie isn't receiving the levels of food she was at the beginning of the war. Additionally, it can sometimes be the case that storage space is limited as the food is kept in a small town hall building in Suceava.
For those wishing to help the appeal, cash donations allow for the most flexibility in providing what's most useful to those who need it most. If there's a shortage of a particular item, cash can be used to buy in what's needed on short notice. Cash donations will also go towards a minibus, which will further assist with taking supplies in as well as helping people escape. Donations can be made through the campaign's GoFundMe (bit.ly/kts-ukraine-aid).
Comments
To leave a comment you need to create an account. |
All comments 0