Six shipments dispatched to Ukraine following successful appeal from a Ross-on-Wye business
Supplies have made it to hospitals, soldiers and civilians.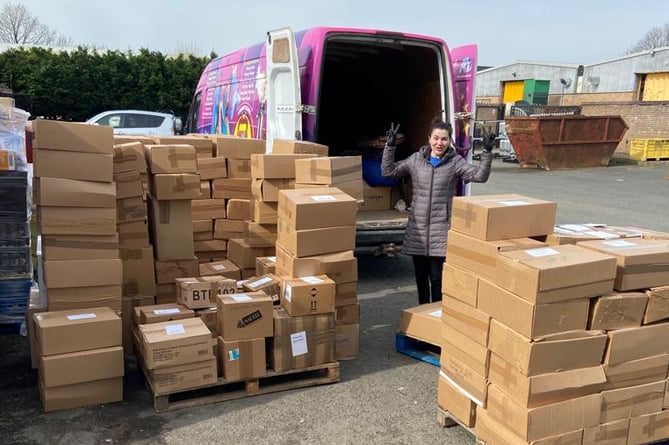 Mihaela Reynolds heading out with essential supplies.
(Katie Fowler )
Subscribe newsletter
Subscribe to our email and get updates right in your inbox.
Half-a-dozen supply shipments have been dispatched to Ukraine following a highly successful appeal from a Ross-on-Wye business. Supplies have made it to hospitals, soldiers and civilians.
A fifth shipment of supplies was shipped out March 15 from the KTS Craft warehouse, with another one expected to head out today.
The first shipment was taken to Romania to be sorted and dropped off to a number of towns in Romania and Poland.
The front lines in Ukraine received the second shipment, with Ukrainian hospitals being sent the next.
Project organiser Katie Fowler sent out her own personally sourced shipment, which was taken out by a friend, who has recently arrived in Lublin, Poland. This shipment was taken out in a minibus which will be used to pick up people from the Poland-Ukraine border and take them to safety.
The latest shipment, which went out yesterday, is being taken straight to Ukrainian hospitals.
A sixth shipment, containing food and medicine, is due to head out March 16 and hopes to get as close to the front lines in Ukraine as possible. Those supplies are specifically intended to make it to soldiers and any civilians who are unable to make it out of the country.
Katie Fowler told the Gazette that whilst there can't be any guarantee that they'll make it to the front lines, she can be certain it will make it to Ukraine and help those who need it.
The plan is to get as many supplies into the country as quickly as possible and into the hands of those who need them.
Due to the KTS Craft Warehouse sending out supply shipments to Ukraine so efficiently and quickly, it has become a major hub in the area for taking in and dispatching supplies, not just from Ross, but from Abergavenny, Monmouth, Bromyard, Hereford, Cwmbran, and the Black Mountains.
Katie Fowler, who's overseeing the shipments, said: "People have been really good, I've asked and people have just been giving, which is really good. A lot of my shipments I've managed to get for free, which helps, but I will have to start paying for them soon."
She's already starting putting a substantial amount of her own money up for shipments, including paying for the one she's personally sourced to go out. Those wishing to help with shipment costs can contribute to the Gofundme page (rossforukraine.co.uk/gofundme). Nearly £1,900 has been raised from over 50 donations, towards a goal of £5,000. Supplies personally sourced and funded by Katie cost £1,300 to send out, which are considered a small shipment. To send out at articulated lorry's worth of supplies costs around £2,300.
Comments
To leave a comment you need to create an account. |
All comments 0