Sweet moment for Olcan as he gets the OK to play
Monday 26th September 2022 6:00 am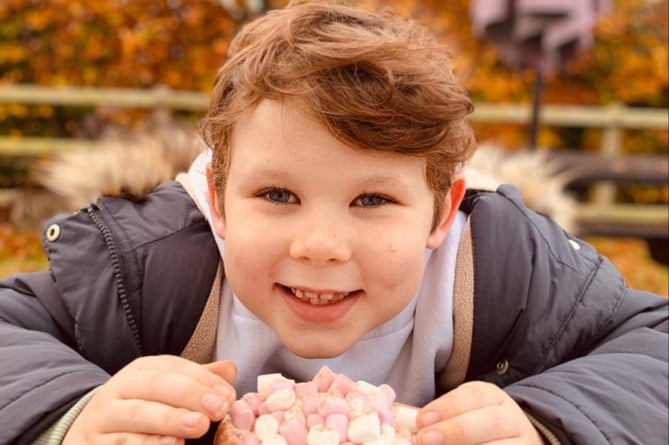 Olcan Wilkes.
(Olcan Wilkes. )
Subscribe newsletter
Subscribe to our email and get updates right in your inbox.
A young lad who appealed for a 'Superhero' stem cell donor to save his life has been given the best news possible a year on from being diagnosed.
Olcán Wilkes underwent a transplant operation in Bristol in March after the global appeal proved successful.
And now almost a year to the day that he and his parents learnt he needed the op, doctors have told the former Newent youngster he can play with friends and live normally again.
The seven-year-old moved to Northern Ireland with his family just weeks before falling ill in summer 2021.
And while spending months in hospital undergoing exhausting platelet and blood transfusions, his former school St Joseph's RC Primary in Ross-on-Wye kept his spirits and learning up via a small, friendly home-controlled desktop robot, the Bubblebuster, which followed the teacher and class around.
Now mum Genevieve has posted photos exactly a year apart, showing a poorly Olcán and the healthy looking lad today.
"On this day last year our world fell out from under us when a blood test in the morning resulted in being told to pack a bag and go to the oncology and haematology unit immediately," she said.
"One year on and we've received the best news! No more ECP (emergency care)!
"Bristol appointments reduced to quarterly, his vascath (wigglys in his chest) are being scheduled to be removed, he can have play dates, his B cells (antibodies) are in normal range and he can have his Covid jab and flu jab! So thrilled, celebrating tonight."
The youngster fell ill with the two-in-a-million aplastic anaemia condition a year ago when his mum noticed he was covered in bruises following a football camp shortly after moving to Northern Ireland.
But searches for a donor for Olcán's rare tissue type failed to find anyone by the end of 2021, prompting the ailing youngster and his parents to appeal for a 'Superhero' to save his life.
Thankfully, a Czech donor came forward and after the op, Olcan posted a video film saying: "The tests have come back and I'm 100 per cent superhero!"
There was still a long way to go, but his mum posted in July: "Can't believe we are 100 days post transplant and the energetic little lunatic is making a big come back!!
"You wouldn't know there was anything going on with him. Inspirational."
And now she, farmer husband Sam and Olcán's younger brother Hunter are over the moon that he is back to his normal bouncing self.
Making an online video appeal back in December, Olcán joked that his bone marrow "needs a kick in the butt!"
"Doctors tell me that I need a superhero to give me some of their bone marrow and can you be my superhero?" he asked.
And the appeal for people to sign up to the Stem Cell Register brought the fantastic news in mid-January that a tissue match had been found in eastern Europe.
Prior to the transplant op, Olcán was boosted by a video call from England's football team, including Harry Kane, Harry Maguire, Jordan Henderson and manager Gareth Southgate.
A charity football match was also held at Newent FC's Wildsmith Meadow in aid of the DKMS international bone marrow centre based in Germany, which helped Olcán find his 'superhero' after a six-month search.
And several weeks after the op, his mum and dad posted: "Olcán's cells have engrafted - this is living proof of the impact donating your stems cells can have.
"To our Czech Republic superhero, there are no words that can match our gratitude for what you have done for us. So selfless!!"
And Olcán himself confirmed the news on a video film from his hospital room, saying: "The tests have come back and I'm 100 per cent superhero!"
See 'Stem Cell Donor for Olcán' on Facebook for more information.
Comments
To leave a comment you need to create an account. |
All comments 0