After only three years of circulation one of the Wye Valley's most iconic historical monuments may no longer be referenced on the £20 as new currency will be designed for HRH King Charles III.
Few have noticed it, but Tintern Abbey has been a feature on the note, since it was switched to the new polymer design.
The abbey is not featured in its entirety. Despite its famous profile and being one of the most photographed buildings in the Wye Valley, it's only the east window design which has made it onto the note.
The note features two transparent windows and a two-colour foil designed to make the note more difficult to counterfeit. Rather than being solely a security feature, the abbey windows design was incorporated into the transparent part of note.
The £20 features the English romantic painter and printmaker JMW Turner who sketched the abbey in 1794 from the perspective looking out of the east window facing England.
The window design featured on the note is not an exact copy of a Tintern Abbey window, but looks to be inspired from the various designs from the rear and sides of the building, the perspective seen from Turner's watercolour painting.
The window from which the design is based off, is particularly visible from the natural overlook known as the Devil Pulpit, where legend holds that the devil would preach from here to the monks and occupants of Tintern Abbey below. It is said that the pursuit money is the root of all evil, perhaps the window design being seen most clearly from the Devil's Pulpit is an unwitting testament.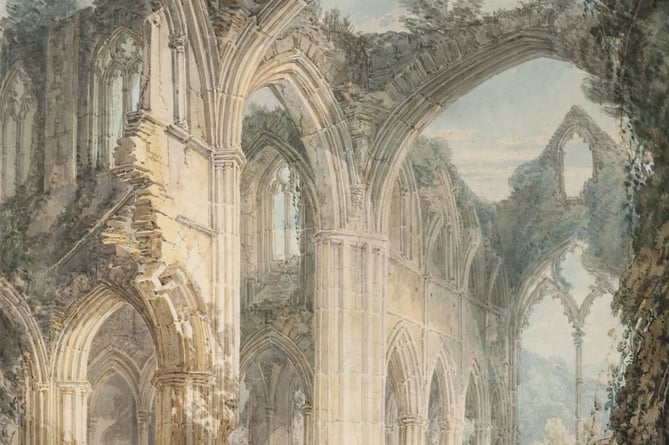 The Chancel and Crossing of Tintern Abbey, Looking towards the East Window 1794 Joseph Mallord William Turner 1775-1851 Accepted by the nation as part of the Turner Bequest 1856 http://www.tate.org.uk/art/work/D00374
(Photo (c) Tate)
On October 10, 2019, Bank of England governor Mark Carney unveiled the design of the new £20 note featuring the artist JMW Turner. It will be issued for the first time on 20th February 2020.
The polymer £20 note contains sophisticated security features making it the most secure Bank of England banknote yet.
Polymer notes last longer than paper notes and they stay in better condition during day-to-day use. This note, like the polymer £10, will contain a tactile feature to help visually impaired people identify the denomination.