Town Men's Shed saved as over 700 sign petition
Sunday 20th March 2022 12:00 pm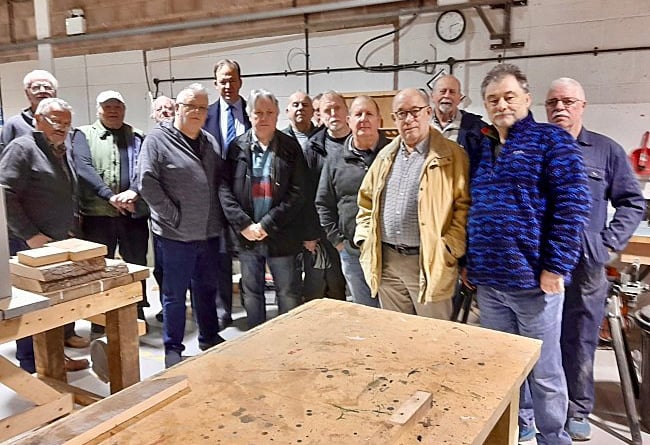 MP Jesse Norman with Men's shed members - pic - Ross-on-Wye Men's Shed
()
Subscribe newsletter
Subscribe to our email and get updates right in your inbox.
A CHARITY which was facing closure after a council demanded more than £13,000 rent per year for their premises has been saved after more than 700 people signed a petition.
Ross-on-Wye Men's Shed have now agreed a deal with Herefordshire Council to keep them at their Ashburton Industrial Estate Unit for the next five years.
The agreement came after Herefordshire South MP Jesse Norman visited their base to pledge his support to the charity, which was founded four years ago and supports retired men's mental well-being by providing community making and repairing projects.
The group posted after the MP's visit: "Very positive meeting with Jesse Norman last week who is fully supportive of our role within the community."
And committee member Mark Gunn confirmed the good news on Thursday (March 11) that the Shed had been saved, saying: "We are awaiting final paperwork, but an agreement on terms that are mutually acceptable has been confirmed.
"This allows us to remain where we are and to continue our relationship with the community.
"We are extremely grateful for everyone who has supported us in this matter whether by signing the local petition, or positive comments on social media."
Shed members posted on Thursday: "We are happy to report that following lengthy discussions with Herefordshire Council officers and local councillors our future tenancy of our premises has been secured for at least the next five years…
"We look forward to working with all the community to repair and restore valued items. Best wishes, The Men at the Shed."
The unit had been provided free of charge until now, but members reported last month that the council had demanded thousands of pounds in rent to stay there from the end of April on as part of a review of its property portfolio.
The charity, which reinstalled a renovated and rebuilt parish noticeboard and community bench outside St Mary's Church two weeks ago, launched an appeal to try and persuade county bosses to change their mind, posting: "We need your help! Many of you have used us for repairs and renovation of furniture and other items.
"Today Herefordshire Council have given us less than six weeks to vacate our industrial unit at Great Western Court or agree to an annual lease of over £12,000 a year.
"We are a charity and have no regular income other than the donations people give us for the work we do for them.
"We are unable to afford this lease and unless Herefordshire Council can be convinced to change their minds we will be closing on April 29th."
Mousey Russell, who launched the petition, said at the time: "The Shed was created to ease the loneliness and boredom of retired men.
"The men meet at The Shed and work on various projects - their own as well as community ones.
"So many people sit at home after retirement and face a life of loneliness, which can affect their mental well-being and health…
"We must save the Ross-on-Wye Men's Shed."
The Shed depends on donations of tools, timber, and funds to build, restore and repair items for people in the community.
News that it had been saved was greeted with relief on social media, with the wife of one member posting: "I am not so much pleased as relieved. It was the best thing that ever happened to me, when my husband joined this band of brothers!
"I think I speak for most of the long suffering wives and partners in saying, Thank God for common sense….. well done lads."
Another woman added: "Fabulous news, such a valuable activity."
And one poster said: "Wonderful news. Councils and Government should do everything possible to encourage schemes like this."
Commenting, Jesse Norman MP said: "I and my team picked this issue up as soon as we heard about it. Such was the level of local outcry that the Council clearly recognised it needed a rethink. My job has just been to make sure that this happens, and that everyone at the Men's Shed has been properly listened to and their concerns addressed.
"The Men's Shed is a terrific public resource in Ross-on-Wye. With luck these new arrangements will not only put the Shed on a secure and sustainable long-term footing; it will also encourage other men in Ross to join up — and other customers for Men's Shed products to step forward."
For more information, go to the group's Facebook page www.facebook.com/RossonWyeMensShed/
Comments
To leave a comment you need to create an account. |
All comments 0