Ukrainian student inspires school speaking about war experience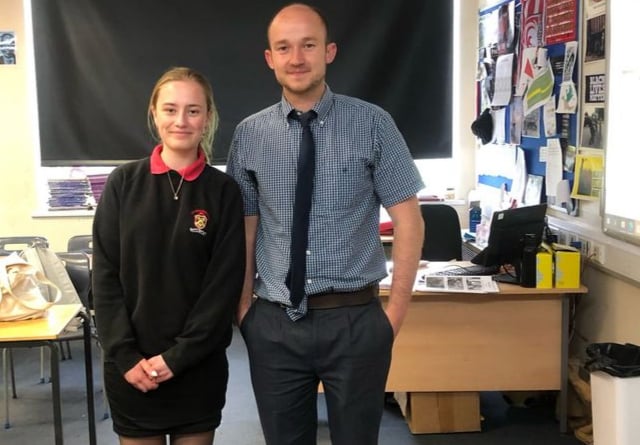 Anastasia with her school tutor Tom Hotchkiss.
(For use only )
Subscribe newsletter
Subscribe to our email and get updates right in your inbox.
A Ukrainian student has been educating classmates about the war in Ukraine by bravely speaking of her own family's experiences of the war.
16-year-old Anastasia Vasylyshyn was holidaying with her family in the ski resort of Bukovel - situated 30 km southwest of the city of Yaremche - in Ukraine when Russian forces invaded the country on February 24.
Following the invasion Anastasia and her Ukrainian parents were forced to cut their holiday short, but with the nearest airport to Bukovel being one of the first buildings to be hit by Russian forces, Anastasia and her family had to embark on a 16-hour car journey through Romania and Poland before finally returning home to the UK.
Since then she has addressed her fellow classmates and students in assemblies speaking about the war in Ukraine and the impact it is having on her family.
Speaking to the Gazette about the terrifying experience, Anastasia said: "It has been a very frightening experience for me and my family, we had to leave the country immediately once the invasion began and had a long car journey to reach the border and pass through countries like Romania and Poland."
Having left Ukraine on Thursday February 24 by car, it took Anastasia and her family two-and-a-half days before they eventually arrived back home in England with the family having to spend a couple of nights in Romania.
Incredibly despite her traumatic ordeal, Anastasia still turned up at John Kyrle High School for the start of term at 9am on Monday February 28 to the amazement of her teachers many of whom had been in contact with Anastasia on her journey home.
Tutor Tom Hotchkiss said: "We were all very worried about Anastasia when the news from Ukraine broke and quickly got in contact with her to make sure she and her family were safe. We were all very relieved to see her return home safe and she received an especially warm welcome from everyone in school."
Despite being born in England, both Anastasia's parents are originally from Ukraine, and Anastasia lived in the country for four years when she was younger.
Anastasia's parents are from Lviv, and her grandparents and uncle were still living in Ukraine when the invasion began.
Like many Ukrainians, Anastasia's family were forced to leave their homes and were quickly granted refugee status and temporary visas to travel to the UK.
Her family from Ukraine have been staying nearby to Anastasia and her parents in Herefordshire, and have even managed to obtain short-term work whilst staying in the country.
Speaking of her Ukrainian family, Anastasia said: "I am very proud of my Ukrainian heritage and the people of Ukraine for showing the unity they have shown under such tragic circumstances.
"We were obviously very worried for my family living in Ukraine so it has been very reassuring to know they are safe and living nearby. It has been great to be able to be so close and spend time with them."
After fielding questions from friends and teachers curious as to situation in Ukraine, Anastastia bravely decided to speak up about her experience and the war in assemblies in an attempt to better inform and educate her classmates and teachers about life in Ukraine.
Anastasia said: "I have received great support from my friends, classmates and teachers since coming home and I felt it was important to explain to them what is really going on in the country and the impact the war is having on the people of Ukraine."
Inspired by Anastasia the school have organised collections and donations for the people of Ukraine, whilst teachers have spoken of the powerful impact Anastasia's words have had on students.
Tutor Tom Hotchkiss said: "I have never seen students as engaged as they have been from Anastasia's assemblies. Usually they return from assemblies and quickly forget about what is said, but with Anastasia's talks on Ukraine they have been really moved by what she has to say and have been thinking about what they can do to help the people of Ukraine. We are all very proud of her."
Having received many donations from school as well as other local organisations across Herefordshire, Anastasia's father has joined the many people bravely volunteering to drive aid and donations across to Ukraine and neighbouring Poland where charities and aid workers help distribute vital equipment to refugees.
Anastasia is currently studying for her GCSE exams, and hopes to return to JKHS for Sixth Form and aspires to study medicine in university with the hope of becoming a cardiologist.
Fluent in several languages including Ukrainian, Russian and Polish, she is also considering a career as an interpreter.
Her Ukrainian family are planning on returning to Ukraine and their home city of Lviv soon, as like many Ukrainians they look to slowly rebuild their lives.
Speaking about her hopes for Ukraine in the future, Anastasia added: "The situation is very tragic at the moment but I hope that the country can soon be stabilised and everyone can start to unite together and rebuild Ukraine.
"The support around the world for Ukraine especially in the UK has been amazing and very heart-warming and of real comfort to the Ukrainian people, who from my family's own experiences I know are very grateful.
"There are many misleading thoughts on the situation so hopefully lots is going to change, my hope is that the war will soon end, innocent people will stop dying and the country can recover and slowly start to rebuild."
Comments
To leave a comment you need to create an account. |
All comments 0