Volunteers called in to restore old Hereford to Gloucester canal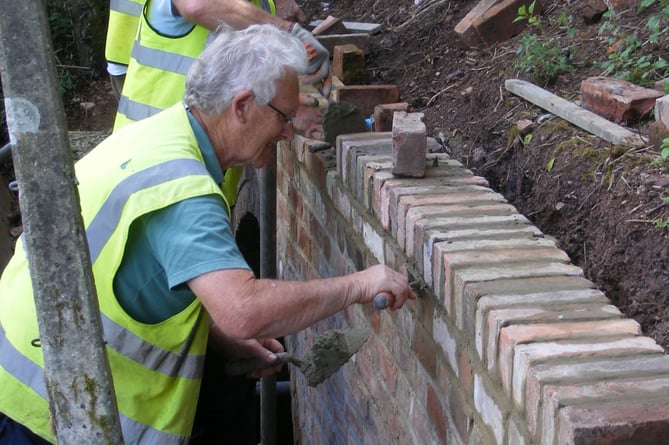 Volunteers restoring an old brick culvert along part of the route.
()
Subscribe newsletter
Subscribe to our email and get updates right in your inbox.
Six-hundred metres of canal is being restored in Newent, near Ross-on-Wye, as part of a larger project to reconnect Hereford with Gloucester.
The group behind the restoration is the Herefordshire and Gloucestershire Canal Trust. The original canal ran from Hereford to Gloucester and was linked to the River Severn. It was opened in two phases in 1798 and 1845, and closed in 1881. The ultimate aim is to fully restore the canal which totals around 34 miles. The restoration for this particular part was kicked off in 2017, which was when the land was agreed to be bought. There have been countless hours spent in preparation works up until this point, and now serious progress is being made.
The waterways recovery group, which is part of the Inland Waterways Association supply volunteers who come out and spend several weeks on site, working towards restoring canals. Volunteers are staying at Newent Town Football club whilst they continue restoring the canal; it is predominately local volunteers working on the project. The group is in the process of acquiring further land to continue the works further, hopefully doubling the length of the current restoration works.
The process of building, rebuilding, or restoring a canal is one fraught with a number of obstacles. For example, volunteers have had to repair two brick culverts so that natural waterways aren't disrupted by the canal, as well as building a bridge to accommodate 32 tonnes, so that the farmer, who owns the land on either side of the new canal, can have access.
A culvert is a structure that channels water past an obstacle, they're usually made from a pipe, reinforced concrete, or other material. These were all part of the agreed upon preparations when the land sale was agreed.
The ground has been prepared, this involved the installation of 12 smaller culverts, which each consist of concrete pipes 2.5m long, 450mm in diameter, and weighed three-quarters of a tonne each. Five further larger culverts were installed measuring 2m diameter and 6m long. These works were completed last week and now volunteers are moving on to the next stage, cutting (digging) the canal.
Serious machinery: including two 13-tonne excavators, five dumper trucks, one 13-tonne sheepsfoot roller, are being used to dig out the canal. Treasurer, Phillip Marshall told the Gazette: "It's a big job, but it's already been started." Volunteers are hoping to get a substantial amount done this week; the site leader is Robert Heigham and the project engineer is Bob Hargreaves.
The section of the canal at Newent is hoping to be completed this year, so that volunteers can then move on to the next parts for restoration.
Comments
To leave a comment you need to create an account. |
All comments 0