New expert advice has revealed the ten things to do when preparing your home for sale - and which projects to never DIY. 
DIY expert Jo Behari, working in partnership with online conveyance  My Home Move Conveyancing, has revealed her top ten tips when it comes to getting your house sale-ready. 
As well as some spring cleaning and switching up your colour scheme, one of Jo's biggest pieces of advice is to bring in a professional for tricky jobs instead of attempting to do it yourself. 
Jobs that you should avoid DIY-ing include plumbing, electrics, plastering and tackling damp patches. 
Dev Malle, Chief Business Development Officer at My Home Move Conveyancing, said: "We all know that spending time getting your house looking its best ahead of a sale can be a game changer and even add value. Our work with Jo will hopefully offer homeowners easy ways to get their properties sale ready.
"There are some jobs however, that are always best left to professionals – unfortunately, for some, they only realise they should have called in the experts when it's too late. 
"We are keen to help, and have launched a competition for people to share their DIY disasters to be in with a chance of winning money to help them put it right."
The competition offers the chance to win £1,000 towards fixing up your home, with more details available on the My Home Move Conveyancing website. 
See the rest of Jo's home preparation advice below.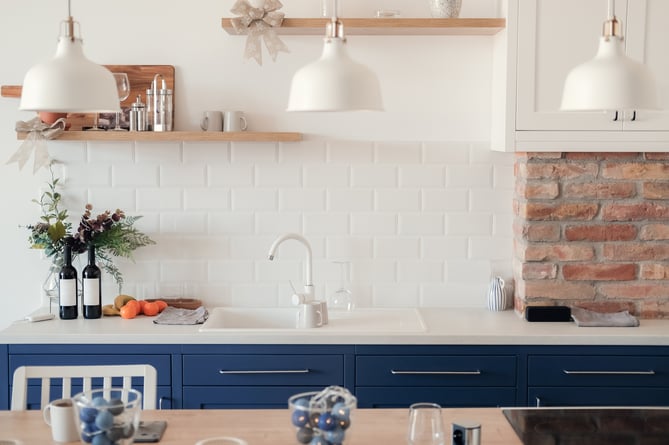 Kitchen and bathroom areas can be key areas for prospective buyers.
(Getty Images/iStockphoto)
Think bathrooms and kitchens
"These are typically the most expensive areas for buyers to update, so do what you can to make them look clean and modern. It can be as simple as cleaning any mould and resealing round sinks and baths. You could even upgrade your taps for a relatively small cost. Always keep surfaces clear and make the room smell nice before buyers pop round, too."
Your front door and hallway create the first impression
"Hallways should be bright, airy and clear of clutter. Put away any out-of-season items, such as big coats during summer, to maximise the space. Adding plants, even if they're artificial, can help freshen up the area. It's worth painting the front door a bright neutral colour too, or even investing in new door furniture."
Storage, or lack of, can put buyers off
"Leaving lots of stuff lying around can lead people to think you have no storage. Clear away any clutter and use a storage unit, even if just for a short space of time, if you need to. Another great tip is to hide bits and pieces in the back of your car during a viewing, as buyers love to investigate every nook and cranny."
"If you have lots of bold colours around your home, consider switching it up to a more neutral scheme that offers buyers a blank canvas. You don't have to paint the woodwork (unless it's neon pink), just give it a good clean and paint the walls."
Call in the experts for jobs that need extra attention
"There are some things that are better left to the professionals. Damp patches, replastering, electrics, gas and plumbing, for example, can all go horribly wrong if not handled by an expert. It's worth spending some money getting these elements up to scratch, as it'll maximise the value of your home and avoid putting buyers off."
The advice comes from DIY expert Jo Behari.
(My Home Move Conveyancing)
Ensure external areas are spruced up too
"Clear any garden clutter, paint unkempt fences and, if you have evening viewings, ensure you have enough light in your outdoor areas – even if that means putting some cost-effective solar lights around your garden in the interim. It's a good idea to show an outdoor eating space too, in the form of a bistro or patio set."
Create at least one wow factor
"Offer something that will make your home stand out from the rest and give buyers something to remember. It doesn't need to break the bank and could be as simple as putting motion sensor lights up your stairs, or even in your wardrobe, so the lights come up when the door opens."
Smell is really important
"We don't all have time to bake bread or brew a fresh pot of coffee just before a viewing. However, you can create the illusion of these homely scents by using reed diffusers or plug ins (you can even hide them behind the sofa so they're out of sight)."
Check the things that buyers will be wary off
"Buyers are often cautious of areas they can't see. Enlisting the professionals to inspect elements such as your roof, boiler and carry out a damp survey, will give you peace of mind and avoid problems arising once the seller gets their own pre-inspection done."
Everyone wants an eat-in kitchen
"It may not always be possible, but do what you can to offer a space to eat in the kitchen – even if that's just bringing in a folding table or breakfast bar. It's worth setting the space up for a meal too, so it looks like you could eat there."