Boxer Liam lands six-round 
win for mental health charity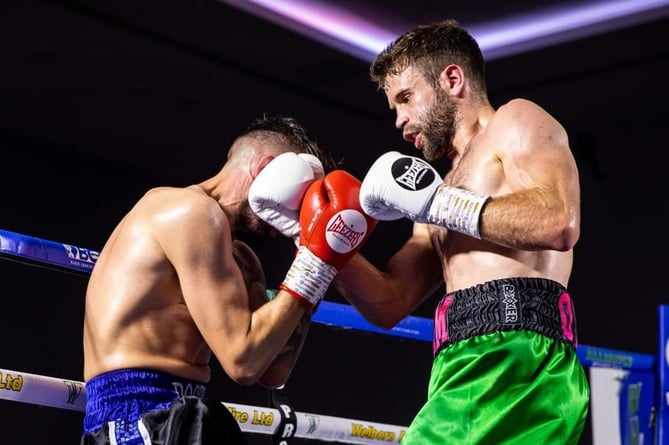 Liam O'Hare won six out of six rounds, but failed to secure the knockout.
()
Subscribe newsletter
Subscribe to our email and get updates right in your inbox.
Ballet dancer turned boxer and former Ross-on-Wye resident Liam O'Hare emerged victorious from his boxing fight, winning six rounds for six.
Against opponent George Rogers he won 40-34 on the score cards. George was wobbling in the second round, however Liam was unable to close the knock-out.
Liam's fight purse came to £700 having sold £4,500 worth of tickets, proceeds are going to Herefordshire Mind, a local mental health charity.
Liam came out of the gate easing into the first round; during the second round, he landed a stunning hook, giving George a substantial wobble. From that wobble Liam saw the potential for a knock-out and started unloading, however George managed to stay standing.
Liam told the Gazette: "Fair play to my opponent, he made it through to the end. He was a real tough contender and he was throwing a lot back."
A cut under George's eye nearly ended the fight prematurely in round three; his other eye started bleeding in the fifth round.
Liam managed to claim his victory largely unscathed, keeping him fighting fit for his next bout in Swindon, September 24, another six round contest.
After that contest, he'll be looking to get his medical renewed for bigger and better fights for Midlands titles and area titles with the hope of claiming some English and British titles in the future.
Getting his first six round fight out of the way was a landmark moment in his career, a big step up from four rounds.
"
"I have a lot to learn, getting used to more rounds, I felt like I had a bit too much left in the tank at the end. I feel like I could have given a bit more, and learnt how to pace myself properly. That's why I've got another six-rounder lined up, to sort all the details and hopefully get that KO under my belt, because it would be my first one if I can secure it. Everyone loves a bit of boxing, but they love a KO more."
Liam O'Hare
A number of businesses stepped up to support Liam, helping bolster the fight purse and give as much as possible to Mind Herefordshire: Furniture.co.uk, Elite Performance, Studio K Hairdressing, Muscle Mechanic Sports Massage, Monnow Ballet School, Princes Meals on wheels, and Provide Solutions Commercial and Domestic.
Monnow Ballet School was the first ballet school that Liam danced at, with his first ever ballet teacher watching. To celebrate his roots, Liam performs a tour en l'air in celebration at the end of his fights, and was a little nervous under the eye of his former tutor, but after a six round fight Liam had the perfect excuse for not being on perfect form.
"It was a brilliant night, and it was just amazing to see so much support there," remarked Liam, "hopefully we can bring it across to the Swindon one and make it another brilliant night as well."
Tickets are on sale for the next fight on September 24, at the MECA, Regent Circus in Swindon. Tickets are available from Liam himself at 07388237128 or through his Instagram @liamohare_pro_boxer. VIP ringside tickets are £65, start is £40. There will also be a coach from Ross to the venue for £10 a head.
Comments
To leave a comment you need to create an account. |
All comments 0