In an enthralling showdown amongst the top low-handicap amateur male golfers, the Ross Golf Club's annual Farr Scratch Cup Open was recently held at Gorsley, attracting 71 golfers from across the country. This annual flagship event, one of the eight major tournaments chosen by the Gloucestershire Golfing Union for their 2023 Duchess Salver Order of Merit series, witnessed some exceptional golfing skills on display.
The verdant, tree-lined fairways of the Ross Course served as a testing ground for the crème de la crème of amateur golf. This year's competition was so fierce that a ballot had to be introduced due to high demand, unfortunately resulting in some applicants missing out.
Jake Phillips from Cotswold Hills GC in Cheltenham, a seasoned player with a +4 handicap, seized the day. Having tasted victory in the 2016 Scratch Cup, Jake commenced his 2023 campaign in style, striking five birdies in the first six holes. With a gross 68 medal score at halfway, he led the field by three shots. A further two birdies in the final four holes of his second round cemented Jake's win by a comfortable three shots, with a combined score of 139.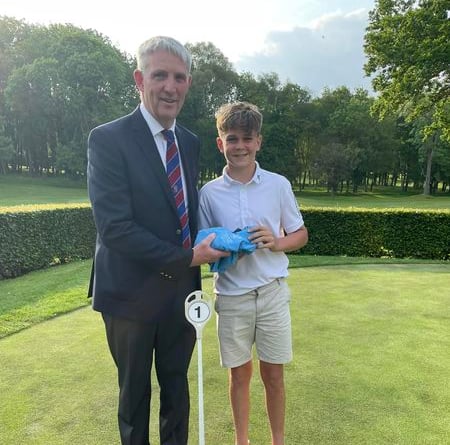 Edward Butler of Lansdown GC, last year's champion, missed out on the top spot this year, finishing as runner-up. Young talent was also on display as 14-year-old Ambrose Eaves of Broadway GC made an impressive debut, recording a hole-in-one at the Club's par 3 pond 12th hole.
In the trophy presentation, the Ross Club's Director of Golf, Tim Hall, praised the collective efforts of everyone involved in the event. He extended special thanks to the event sponsor Godfrey Farr, the Club's longest-serving member, who had generously replaced the deteriorating trophy two years ago. Commendations were also given to Course Manager Dylan Stokes and his team for ensuring excellent playing conditions, and to the considerable voluntary support that ensured the smooth running of the event.
The Farr Scratch Cup Open 2023 reaffirmed Ross Club's brand name and community spirit, creating a memorable spectacle in the golfing calendar.