Students ride high atnational championship
Friday 3rd December 2021 12:00 pm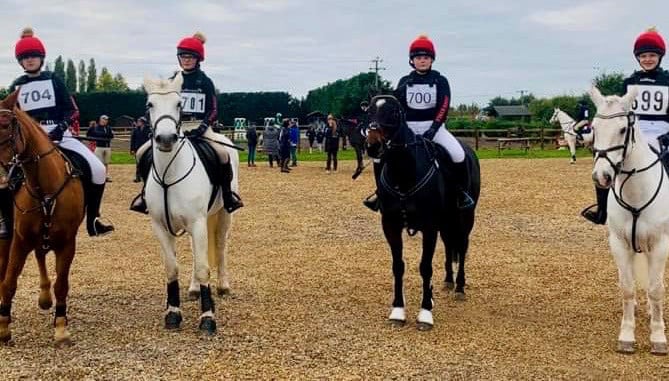 Subscribe newsletter
Subscribe to our email and get updates right in your inbox.
A SCHOOL'S equestrian team are riding high after good performances at the national championships and other events.
Evie Bennett secured silver and bronze at the 30th anniversary three-day National Schools Equestrian Association championships in Keysoe, Bedfordshire, which no less than seven John Kyrle High School pupils qualified for.
Year 10 rider Evie competed on the final day in the 1.10 metre/1.15 metre showjumping and had a fantastic round coming in the top eight to go through to the jump off before placing second overall out of 14.
She also then competed in the 90/95cm showjumping, again getting through to the jump off and this time coming third out of 38.
Evie had also ridden earlier in the 1 metre/1.5 metre showjumping, where she had a great round just taking a pole on the last fence to come 14th out of 104.
Year 12 schoolmate Ronie Thomas also qualified for the 1m/1.5m and 1.10m/1.15m showjumping competitions, but sadly her horse failed to complete the course both times.
It was the first time for four of the members to experience the championships, which can be overwhelming with more than 1,000 other riders competing over the three days.
Some of the members travelled up on the Friday, as it was an early start for them the next day.
The 70/75cm Arena Eventing team of Year 8 duo Ella Knapp and Chole Burson, and Year 9's Daisy Davies and Lucy Evans, all rode well on a testing course, which for the first time was in an arena with showjumps going into a sand arena for the cross country jumps,
including a step and water complex.
The girls hadn't experienced this before as none of the qualifying competitions had this kind of setup, but came a respectable ninth out of 16 teams, with Chloe the highest-placed member coming 35th out of 81.
Without much time to catch their breath it was time for the 70/75cm showjumping championship team of Ella, Year 7's Bella Powell, Daisy and Lucy.
Ella went clear, but unfortunately Bella, Daisy and Lucy all had a pole down, as they placed 23rd out of 35 teams, with Ella the highest placed coming 64th out of 152.
Chloe competed as an individual in the 80/85cm showjumping, only the second time she has jumped this height, coming a respectable 63rd out of 214.
On Sunday, Daisy rode individually in the Arena Eventing, coming 26th out of 92.
A school spokesperson said of the team's performance: "These are fantastic results for Evie and all the members of the team are great ambassadors for the school. The support and encouragement they give each other is amazing."
Year 7 pupils Jay Tolley, Matilda Davey and Tilly Stoneham also recently travelled to King's Equestrian in Bromyard, the first time they have competed for the school.
In the 50cm showjumping class they came fifth, with Jay coming sixth individually.
This qualified them for the regional championship in December.
Next was the 60cm course, with Tilly riding very well to come third out of 60 competitors, which also qualified her for the championship, while Jay has been awarded a wild card allowing him to also compete.
Ella, Bella, Daisy, Chloe, Lucy and Year 10 rider Ruby Meredith also travelled to Rectory Farm Equestrian centre in Duntisbourne Abbots for Arena Eventing.
The 70/75cm team of Ella, Bella, Daisy and Chloe rode brilliantly to come third, just missing out on qualifying, while the 80/85cm team of Bella, Daisy, Lucy and Ruby came eighth.
Comments
To leave a comment you need to create an account. |
All comments 0