Arsenic and Old Lace at the Phoenix Theatre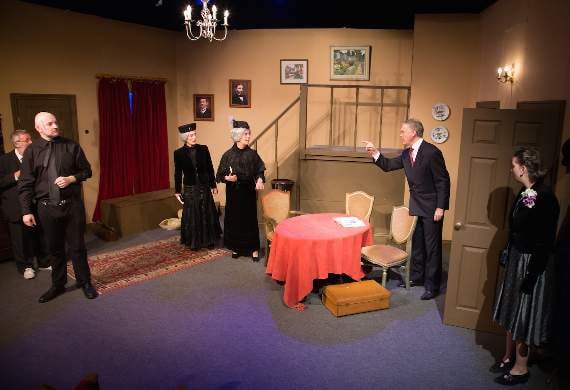 Subscribe newsletter
Subscribe to our email and get updates right in your inbox.
Last week's production of the classic comedy Arsenic & Old Lace at the Phoenix Theatre, performed by the resident amateur group the Phoenix Theatre Company, was very well received and played to full houses. Set in a quiet neighbourhood of Brooklyn in the early 1940s live two old ladies - Abby and Martha Brewster. Underneath their air of respectability lies a dark secret – 12 bodies in the cellar. These are their gentlemen, single elderly men who are given a glass of elderberry wine laced with a cocktail of poisons to help them on their way.
The Brewsters were played to perfection by Suzanne Hill and Jane Bovell who brought their vast range of acting talents to their roles. Orchestrating the disposal of bodies in the cellar was Teddy Brewster who thinks himself to be Teddy Roosevelt. This was a cameo role played with extreme enthusiasm by Les Davis. Some sanity exists in the Brewster family in the form of Mortimer, a sometime theatre critic played by Tony Hearn making a welcome return to the Phoenix. Tony has good stage presence and a range of facial expressions that can reflect an extreme range of emotions. The look of incredulousness on his face as he discovers the bodies in the window seat was a treat.
The play takes a menacing turn with the entry of long-lost nephew Jonathan Brewster. Jonathan is a gangster who has his identity protected by frequent face lifts carried out by his side kick, the German Dr Einstein. The portrayal of Jonathan by Gareth Wigg as a very nasty piece of work was the highlight of the play. Shaven-headed with a couple of operating scars and eyes that pierced through the audience, Gareth commanded the stage. His measured delivery and menacing threats cowered Dr Einstein into submission to his deadly plans. Performed with a stoop and a spot-on accent, Tim Betts had a lovely time as Dr Einstein.
Where there are villains there are also cops, and quite a lot of them. On came some of the dumbest officers you are likely to see, played by Nigel Patrick (again returning to the Phoenix), Sam Callen and Tom Lee-Hynes, overseen by Lieutenant Rooney played by Jacky Bedford, another nice cameo. I was pleased to see Gordon Brigg on stage as one of the Brewster ladies' potential victims. Gordon is a vastly experienced actor and director. Brian Jackson makes an entrance towards the end of the play as Mr Witherspoon, the director of a home for the mentally ill, and being single, elderly and unattached - he is last seen holding up a glass of elderflower wine.
The play opens with the Rev Dr Harper, played by Roger Williams, and we are soon introduced to his daughter, Elaine, played by Zoe Hutton. Zoe has come into the senior ranks as a product of the Phoenix Youth Theatre and has a promising acting career ahead of her. It is a joy to watch her face reacting to every changing situation on stage.
If there is to be any criticism of David Pollard's direction, then it has to be the inability to see all the actors when a large cast is on stage. If an actor is on stage then they must not be masked. Difficult with a large cast I know. I also felt the overhead blue light which outlined the tops of the actors heads quite distracting, a point made by others sitting near me.
Overall an excellent production with great performances that delighted the audiences. If you have not been to the Phoenix Theatre, it is hidden away between the Royal Hotel and St Mary's Church.
Their next show is the Phoenix Singers Xmas Concert running from the 7th-9th December. I am told that tickets are now available from the theatre website or Rossiter Books.
Comments
To leave a comment you need to create an account. |
All comments 0