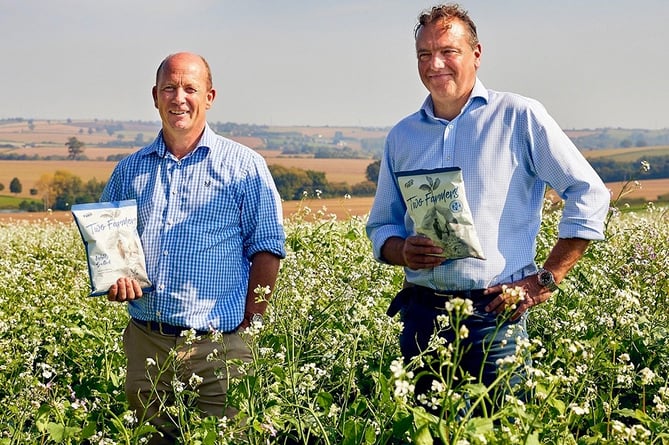 Mark Green, left, with Two Farmers Crisps co-founder Sean Mason. Pic: BBC
Subscribe newsletter
Subscribe to our email and get updates right in your inbox.
A crisp and gin-making farmer has launched a planning appeal after his bid to convert a farm to large-scale soft fruit production, complete with 69 acres of polytunnels, was turned down by planners.
Two Farmers Crisps and Gun Dog Gin producer Mark Green of Ditton Farm, St Owen's Cross, saw his application for former orchards at Biddlestone Farm in Llangarron rejected by Herefordshire Council last summer after more than 550 objections.
The overall scheme involves several linked plans to launch a fruit growing operation, including steel clad buildings and accommodation for a 240-strong seasonal workforce, on land west of the A4137.
Seven appeals in total were officially lodged with the planning inspectorate last week, although no grounds have yet been supplied.
Plans for the fruit growing operation were originally submitted back in 2014, but then withdrawn and resubmitted again in 2017.
The overall proposed site amounts to 53 hectares of farmland near Llangarron and St Owen's Cross, between Ross-on-Wye and Monmouth.
In his application, Mr Green said he wanted to install 'Spanish polytunnels' using a raised 'table-top' method of 'grow-bag' production, and to provide portable buildings and other facilities.
Excavations to form three surface water balancing ponds were also proposed, plus a new access and driveway, a pumphouse and water storage tanks, an agricultural building and a lorry loading dock.
Hundreds of residents and organisations objected to the 'industrial' fruit farm bid at the planning stage, including the Campaign to Protect Rural England and Woolhope Naturalists' Field Club (WNFC), while five neighbouring parish councils also opposed it.
A Herefordshire Council planning report said objectors claimed it was of "industrial proportions and will be highly visible from many miles away".
Concerns were also raised that it was next to the A4137, "which is number four in the top 10 of Britain's most dangerous roads", including the accident blackspot at St Owens Cross.
David Whitehead of WNFC said the mass production of strawberries in polytunnels covering up to 12 fields would have a "considerable negative impact" on a large area of the countryside.
"Surely we must be close to saturation point for tunnel-forced strawberries, whereas a diverse and well-managed orchard has value to the community," he claimed.
A report on behalf of the fruit farm bid, which was backed by 18 letters of support, said: "They (the plans) are all inter-related and together form part of a comprehensive project to re-establish a fruit-growing enterprise at the former Biddlestone Orchards, to be known henceforth as Biddlestone Farm…
"In its scale, in its sophistication and in the level of new investment and development, this is, essentially, a new horticultural undertaking.
"However, it builds directly upon the legacy of the farming enterprise previously undertaken on the site.
"Thus, for nearly 70 years from 1939, Biddlestone Orchards was operated as a fruit-growing business by the Oakeley Family.
"It specialised in top-quality dessert fruit, including strawberries, raspberries, cherries, apples and pears."
Rejecting the linked schemes last summer, planners ruled: "This submission has not demonstrated that the development as a whole will not harm the visual amenity and landscape character, not just from the proposed polytunnels but the associated necessary developments."
Anyone wishing to comment on the appeals can do so until May 31 by going to www.gov.uk/appeal-planning-inspectorate and searching for APP/W1850/W/21/3283683, which is the lead case among the seven linked appeals.
Comments
To leave a comment you need to create an account. |
All comments 0