Have your say on plastic ban, urges Ross charity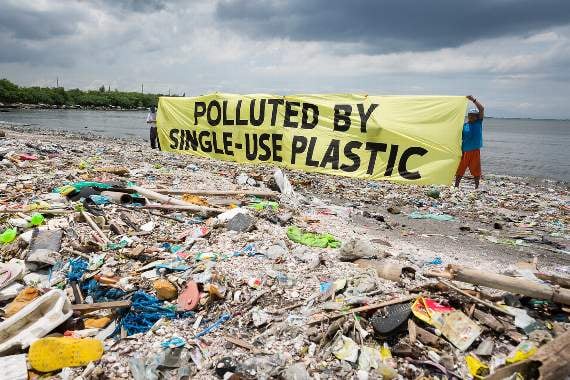 Subscribe newsletter
Subscribe to our email and get updates right in your inbox.
AN environmental group which campaigns to protect our coastlines and seas from its Wye Valley base has welcomed a consultation on the banning of non-essential single-use plastics, including takeaway plates, cutlery, and polystyrene food and drinks containers.
The Marine Conservation Society, based in Ross-on-Wye, is urging people to have their say after the Welsh Government announced it would be considering banning plastic items to protect the seas from further pollution.
A charity spokesperson said: "The Marine Conservation Society welcomes the consultation and is urging members of the public to get involved and share their thoughts to ensure that the policies put in place throughout Wales are ambitious and progressive.
"The Marine Conservation Society has been recording the abundance of single-use plastics on Welsh beaches for nearly 30 years, illustrating the true extent of the issue."
As organiser of the annual Great British Beach Clean, it says plastic items and pieces are among the most commonly found items on shorelines, much of it washed down our rivers, including the Wye.
"For every 100m of Welsh beach surveyed, an average of 162 small plastic pieces were found. These pieces are likely to have broken off of larger plastic items," added the spokesperson.
"In addition, an average of 32 cigarette stubs, which contain plastic, and 20 food packets were found for every 100m of beach cleaned and surveyed.
"The Welsh Government's consultation is an opportunity to ensure that measures are put in place to stop the tide of marine litter and reduce our reliance on avoidable single-use plastics.
"The consultation will consider banning items which have been banned elsewhere in the UK, including plastic cotton bud sticks, stirrers and straws.
"However, the Welsh Government is going further by also looking at takeaway items such as plates, cutlery, and food and drinks containers made from polystyrene.
"The Welsh Government, through its proposed ban of oxodegradable products, has recognised the importance of ensuring products are suitable for recycling to limit plastics which aren't being correctly disposed of and ending up in landfill.
"Responses to the consultation from the Welsh Government will be considered and used to develop legislation which will lead the way for the rest of the UK.
"It's vital that as many people as possible take part in the consultation and share their views."
Gill Bell, Head of Conservation Wales at the MCS, which is based in Overross House in Ross Park, said: "It's wonderful news that the Welsh Government is proposing measures to limit the volume of single-use plastics being used and littered in Wales.
"The public have shown great enthusiasm for cutting down their personal single-use plastic reliance, now the government must follow suit.
"Ambitious measures to drastically reduce avoidable single-use plastics are the only way we will stem the tide of marine pollution for good.
"We need to move to a reusable economy which is not only great for the planet, but helps generate new jobs contributing to a green recovery in Wales. Companies have been producing single-use plastic for years and it has become a blight on our beaches.
"This consultation gives the public an opportunity to send a clear signal to policymakers that enough is enough, and these issues must be addressed."
The MCS believes a ban on all non-essential single-use items, regardless of material, is the key to truly stemming the flow of pollution into the ocean.
It also wants companies to pay for the cost of cleaning up their products found on beaches.
Comments
To leave a comment you need to create an account. |
All comments 0