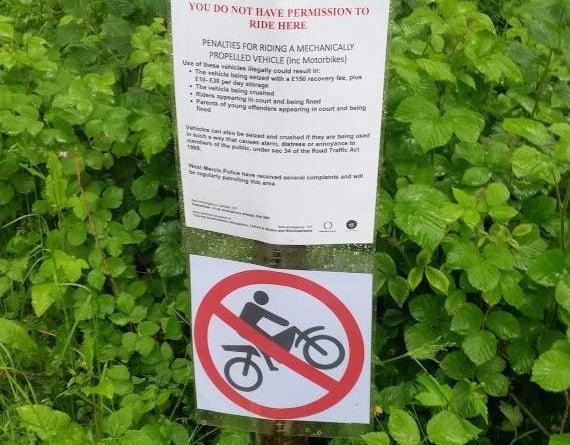 Subscribe newsletter
Subscribe to our email and get updates right in your inbox.
I would like to respond to the letter from Mark Holland (June 6th) regarding the action taken by horse riders at Welsh Newton in an effort to stop the illegal, and potentially dangerous, use of a bridleway by off road motorbikes, also known as trail bikes. His letter was littered with inaccuracies which must be corrected.
The Ross Gazette presumably didn't contact the accused motorcyclists because they were not in a position to identify them. There is no 'other side of the story' in the sense that Mr Holland describes. The public right of way is classified as a bridleway (WNN6) and becomes a restricted byway (375/15/1) when it crosses the border into Monmouthshire. It is a criminal offence to ride a motorcycle on a bridleway and a restricted byway. This is the law. It would therefore be pointless to involve organisations such as the British Horse Society and the Trail Riders Fellowship (TRF) in a discussion. Following the National Parks and Access to the Countryside Act 1949, county councils classified all the public rights of way. They periodically review the classifications. Anyone can submit a Definitive Map Modification Order to a council if they feel that a right of way has been incorrectly classified. I believe that the local correspondent for the Open Spaces Society submitted a DMMO to upgrade WNN6 from a bridleway to a restricted byway. This probably makes sense, based on its historic use and the fact that Monmouthshire class their section in this category. If the existing DMMO application is successful, it will still not allow motorcycles to use the public right of way.
Mr Holland suggests that the horse riders have not looked at a map. That is totally untrue. We checked both the OS map and the online maps of both councils.
He then goes on to say that most people enjoying this route are members of the TRF and will therefore be following the TRF code of conduct. That is not true. They are riding on a bridleway and a restricted byway. That is a criminal offence so they are not following the TRF code of conduct. Whether or not their bikes are road legal is completely irrelevant. The offence is that they are riding illegally on a public right of way. Mr Holland says that no one claims to have met a motorcycle. Again, this is totally untrue. I, and others, have met motorcycles on many occasions. In some cases, the horse panics and bolts at the sound of the screaming bikes approaching before the bikes are in sight.
I have also videoed trail riders on the bridleway, including those riding past the police warning signs. I have already passed on video evidence and registration numbers to the police.
Mr Holland is clearly not a horseman, as demonstrated by his claim that 'it is the rider, not the horse, who is frightened'. That is nonsense. Most of the horses using the right of way have basic and, often, more advanced training. However, even if a young horse undergoing training was to use the bridleway, there should not be any motorcycles using it, so that should not be an issue.
We are not 'seeking to ban other legitimate users'. We are seeking to stop illegal users; in this case, trail bikes.
The article referred to 'visiting offenders' because some of the trail riders we meet on the bridleway claim to come from Bristol. We know this because that is what they've told us when we've met them on the bridleway on our horses.
I trust that Mr Holland won't encourage trail bike riders to break the law. If he wishes to try and change the classification of the public right of way to allow motorcycles to use it, then he must make a formal application to change the status. We will continue to report every motorcycle that we see on the bridleway to the police.
Comments
To leave a comment you need to create an account. |
All comments 0