Local MP Jesse Norman visited the Zero Waste stall in Ross on Wye on Saturday to celebrate its three-year anniversary. He drew the 'lucky dip' for some of the best items they had to give away and helped serve local customers visiting the stall.
Jesse said "What a fantastic initiative this is. It is quite something to combine a huge saving on food waste with support for the local community and the management of a hugely successful volunteer-driven project over several years. And all with such a warm welcome!
"Massive hats off to all the Zero Waste Stall team."
The stall started in November 2020 with the objective of giving away food from stores that would otherwise have gone to waste. From those small beginnings – it has become a successful local operation, avoiding waste, and providing food to local people six days a week.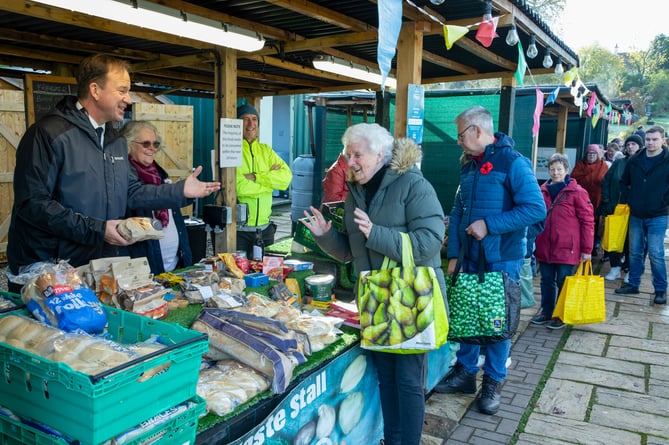 Since opening the Zero Waster Stall has:
· Given away almost 100 tonnes of food.
· Wasted almost none of the food they have been given.
· Had over 30,000 visits from people in the community.
· Collected every day of the week from food stores and businesses.
The team of over 40 volunteers work tirelessly to collect, sort, and serve on a daily basis. The local business who regularly provide food are: Morrisons, Sainsburys, Aldi, Co-Op, One Stop, Apple Green, Lodge Farm Kitchen and other community donations.
You can find out more at https://www.facebook.com/RossZWS