Tributes have been pouring in for the first woman mayor of Ross Mrs Joyce Thomas who has died aged 92.
A stalwart of the town Joyce was a popular and much loved member of the Ross community.
Her sterling work in setting up several local groups is one of her many legacies to the town.
Joyce was very proud of her family and was a  supportive mother to Kim, a wonderful nan to Christian, Emily, Phin and their families and revelled in the company of her great grandchildren - Lucia, Hugo, Sonny and Teddy. 
Joyce's sense of humour, generosity and warmth will be hugely missed by them all. 
Mrs Kim Niblett, Joyce's daughter on behalf of the family said: ''Mum was taken ill a few months ago. 
''She sadly passed away in the early hours of Monday morning (insert date). She received wonderful care and support from carers and staff at West Bank Residential Care Home.
"As a family we are also most grateful to the many friends who visited Joyce at the care home whilst she was unwell. Particular thanks to Rev Sean Semple and Derek Glover from St Mary's Church for their support which was much appreciated.''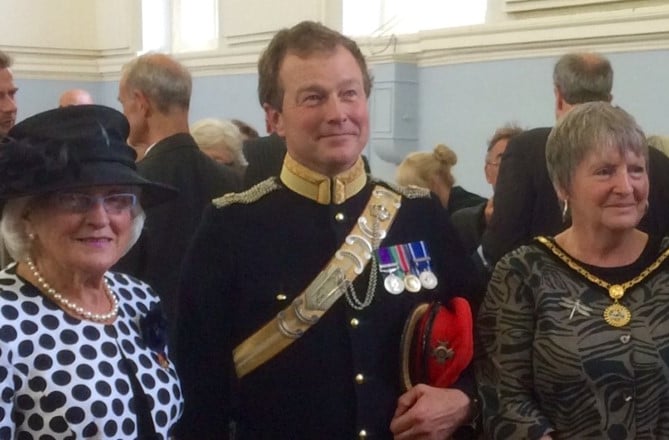 Joyce Thomas with Patrick Darling DL, High Sheriff
(Joyce Thomas)
Her mayoral project was to establish a park and playground at the Deanhill site, as this had become overgrown and had been used as a rubbish site. It remains a popular park for the public, parents/carers and children. 
As Mayor she was president of the St Mary's Church Steeple Fund. 
After she had received requests, she held a public meeting, which resulted in the setting up the successful Ross-on-Wye Pre-School Playgroup, She was its Life President. 
Iris Price, treasurer of the trustees and Vicky Page as tanager of the Pre-School Playgroup said: ''Joyce took a great interest in the work and support offered to the young children. As Life President, she made a remarkable contribution to this organisation. It was so wonderful when Prince Charles visited Ross-on-Wye in 2019, and Joyce told him about our work and all.''
Joyce was passionate about helping young people and did much to support local schools as an active governor at John Kyrle High School, where she was responsible for securing the name of the school from the Kyrle-Pope family, and she chaired the governors there for many years. 
She was also involved with Ashfield Park Primary School, and Walford Nursery and Primary Schools. 
She was also a trustee of the Pashley Trust and the Minett and Skyrme Trust which offers support to children and young people.
Joyce also did a terrific amount of fund raising for the Charles Renton Breast Care Cancer Charity, and there were regular fashion shows, and 'pop up' charity shops raising many thousands of pounds.
She took a very active part in the campaign for the Ross-on-Wye Community Hospital, as at the time there was a plan to reduce NHS facilities in the town. 
The Community Hospital Campaign succeeded, and the new hospital was built. Joyce's contribution was outstanding.
She was aware of the need for support and advice for people in the community, and with Barbara Jordan, a local solicitor, they set up the Ross Advisory Service with help from funding from local playwright, Dennis Potter. This later became the Ross-on- Wye and District Citizens Advice Bureau.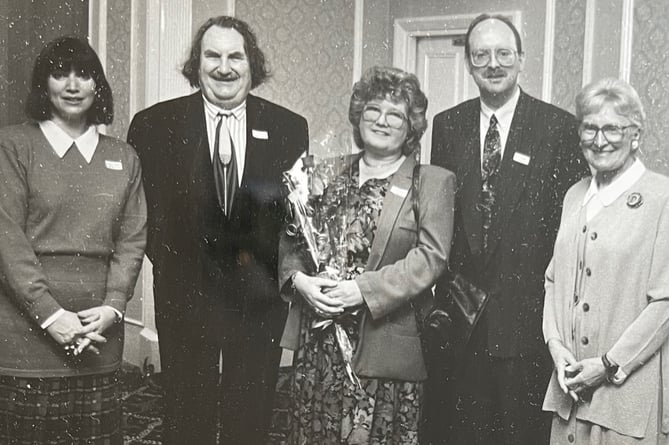 The new Ross-on-Wye and District Citizens Advice Bureau
(Joyce Thomas)
Joyce took a great interest in local politics and topped the poll in recent elections for the County Council when she last stood for the Herefordshire Council. She also was elected and served as Vice Chair of the Herefordshire Council.
She also served as a County Council member of the West Mercia Police Authority, where she was also elected as Chair of the Authority. Along with the appointments panel, she appointed Paul West QPM DL as the Chief Constable.
Joyce was very involved in supporting events at Tudorville and particularly with friends Colin and Ann Gray and the Tudorville Youth Club. She was also a great supporter of the Ross Majorettes.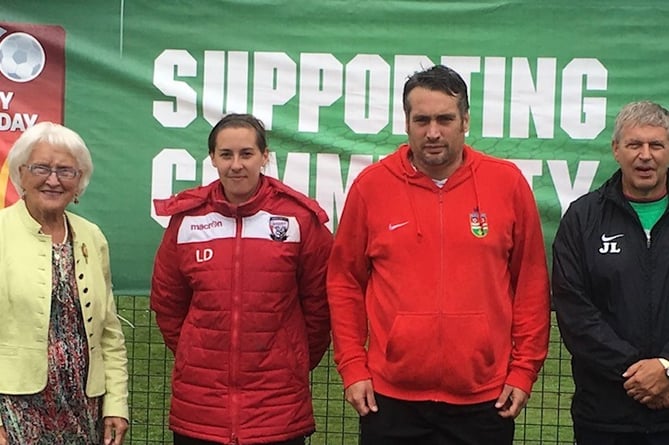 Joyce Thomas, Ross-on-Wye Juniors
(Joyce Thomas)
She was also a Patron of the Ross-on-Wye Juniors Football Club and enjoyed supporting the teams and events held at the Sports Centre. 
Joyce was also involved with others in the establishing of the refuse and recycling facility by Morrisons. She was also a former member of the Ross-on-Wye Rotary and Probus Clubs.
Joyce's contribution to the Ross-on-Wye community was recognised when she was awarded the MBE, and at that time, she was also appointed as a Deputy Lieutenant of Herefordshire by Sir Thomas Dunne KG KCVO JP.
In her earlier life Joyce was a parish council clerk in the country at the age of 17. She married A J Thomas, known as John, and eventually moved to Ross-on-Wye when John was appointed as Head of Boys PE at the Ross Grammar School. He served as a local magistrate for many years. 
Joyce worked at the local Police Station, and then became the Practice Manager at the Chepstow House Health Centre. Their daughter Kim was brought up in Ross-on-Wye at their former home at 'The Barclays.'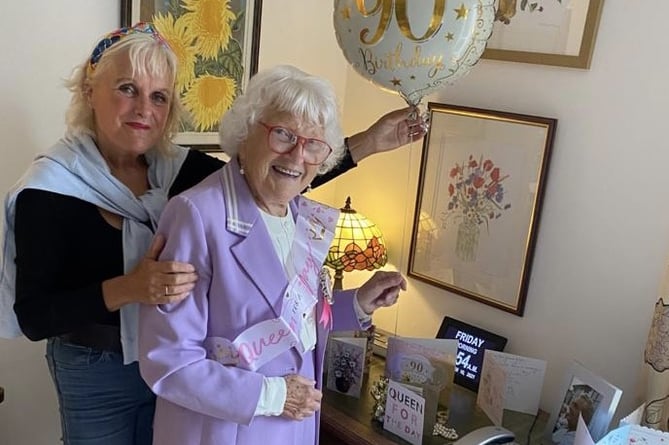 Joyce Thomas, 90th Birthday, With daughter Kim, 2021
(Joyce Thomas)
Messages and condolences have been received by the family from many of Joyce's friends and colleagues. 
These have included messages from:-  Edward Harley OBE, the Lord Lieutenant of Herefordshire, The Dowager Countess of Darnley JP, the former Lord Lieutenant of Herefordshire, Jesse Norman MP, Lady Lisvane, the former High Sheriff and Lord Lisvane DL, Paul West QPM DL, former Chief Constable of West Mercia, Sebastian Bowen, Chairman of the Herefordshire Council, Ed O'Driscoll, Mayor of Ross-on-Wye, Rev Sean Semple and all at St Mary's Church, Anthea McIntyre CBE, Frank Myers MBE, Des Auld, Gwyneth and Mark Gill, Elspeth Sims, Ann and Helen Jones, Truffles Delicatessen staff, Sarah Robson and Ross-on-Wye Town Council staff, Jim Loftus and all at Ross Juniors FC, All of the Governors at Walford Nursery and Primary School. 
Angie Ellis, founder of Ross Labels said: ''Following her retirement as a GP Practice Manager, Joyce worked at Ross Labels. 
''She was always kind, thoughtful and such a great member of the team. She was a dear personal friend to both myself and to many, and she will be very sadly missed as she was a superb ambassador for Ross-on Wye.'' 
Paul Deneen OBE JP DL, Chair of the Board of Governors and friend to Joyce, her late husband John, and to Kim and the family said in a joint-statement with Louise George Headteacher: ''Joyce was Patron of the Walford Nursery and Primary School. For more than 40 years her contribution and influence at the school was immeasurable. 
''Her dedication and commitment was superb. She was affectionately known by the pupils as 'The Queen at Walford.' 
''In addition, she also did so much to help and support people of all ages and from all walks of life and from all parts of the Town of Ross-on-Wye and beyond. 
''She was well liked, was popular, was respected and made an outstanding contribution to the community, and she will be very, very sadly missed by all.''
A Celebration Service of Joyce's life and her superb contribution to the community of Ross-on-Wye will be held at St Mary's Church, Ross-on-Wye on Saturday May 13 2023 at 1pm. 
All will be welcome, more information to follow.
Any cards or donations or cheques can be made at the celebration of life on Saturday May 13 or can be sent to:- Joyce Thomas MBE DL - Memorial Fund, c/o 4, Goodrich Close, Lincoln Green, Ross-on-Wye, Herefordshire, HR95UX. Cheques made payable to 'Paul Deneen.' 
(Paul as an independent person has kindly agreed to liaise with the family regarding the memorial fund).