The Wye Wednesday Market in Ross on Wye is celebrating its first anniversary, marking a year of showcasing local crafts and supporting various charities. Launched on 6th April 2022 at The Larruperz Centre, the market takes place on the first and third Wednesday of each month, from 10:00 to 12:30.
Michelle Gardiner, the founder of the market, chose The Larruperz Centre for its central location and ample free parking, as well as its accessibility for those with mobility needs, being situated on the ground floor. The market features up to 18 stalls, showcasing a diverse range of local crafts, artwork, photography, Avon products, local honey, and eggs, along with delicious bakes from Desserts for You.
Wye Wednesday Market is always on the lookout for new stallholders to join the community. Interested parties can email [email protected] or visit the market to speak with Michelle.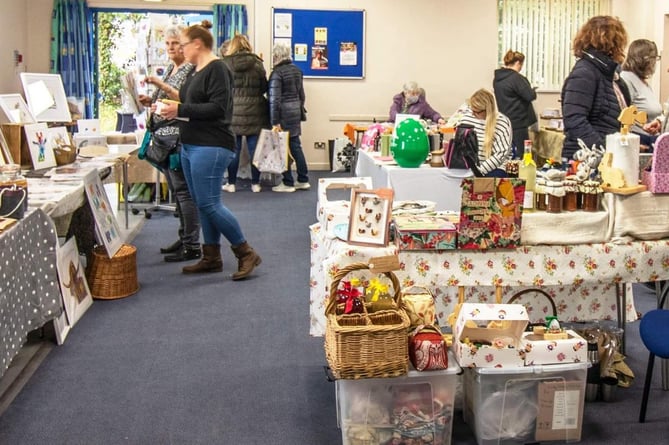 Wye Wednesday Market, Larruperz Centre, Ross-on-Wye
(Wye Wednesday Market)
In addition to the market, a charity coffee morning with a tombola is held on the first market of the month, where visitors can relax, chat, and hopefully purchase a few items from the wonderful stallholders. Since starting the charity coffee mornings in August last year, nearly £500 has been raised for six different charities, including Dementia UK, Acorns Children's Hospice, and various appeals for Ukraine, Turkey, and Syria through KTS Craft Warehouse.
This year, the market aims to support local community groups, such as the Friday Lunch Club, Ross Meeting Centre, and a local WI group. The charity for the one-year anniversary event will be Ross Guides, who are raising funds to replace their damaged tent equipment due to Covid. Ann Mince from Mince Makes, one of the stallholders, is also a volunteer for the Ross Guides.
With the anniversary event falling during half term, the organisers hope to attract plenty of local support. If you're part of a local community group that relies on donations and charity fundraising, please contact Michelle to be added to the list of supported causes.