Bowlers make hay in sunshine
Friday 3rd June 2022 4:00 pm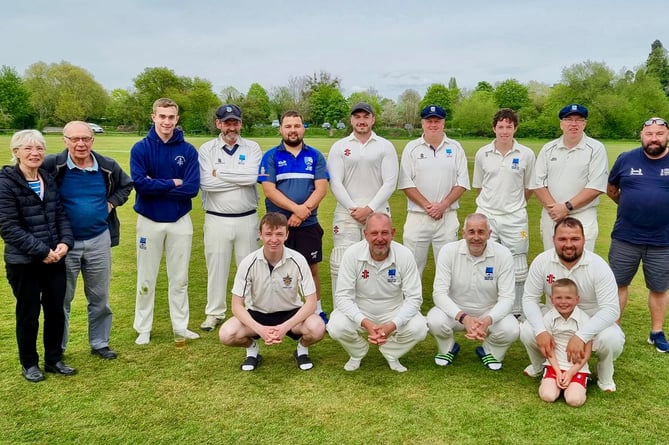 Subscribe newsletter
Subscribe to our email and get updates right in your inbox.
DEVASTATING bowling and whirlwind half centuries from their openers secured a whopping 10-wicket away win for Ross CC's 1st XI on Saturday.
The visitors won the toss and put hosts Herefordians into bat in their Marches League Division Two clash.
Tony Laws snared opener Adeel Sahal for one before the second-wicket partnership gave the hosts a solid start, Jawad Zafar scoring 26 including five fours before he was trapped lbw by Jack Donovan.
And although third man Chris Klompas went on to make 46, including 10 fours, the rest of the batting line-up was wiped out by the Ross attack, contributing only 23 more off the bat as the bowlers made hay in the sunshine.
Herefordians were all out for 118 in 31.3 overs, with Donovan taking three wickets for 38 off 10 overs, Luke Timewell three for 34 off 8.3 overs and Laws one for 14 off six overs.
Angus McIntyre also secured a catch and a run out, while Laws, Nigel Lane and Jim Lewis also showed safe hands to clutch chances.
McIntyre and Donovan had no intentions of hanging around in reply, racing to 120 without loss in just 13 overs.
The former's 55 came in just 35 balls and included 10 fours, while the latter's 58 in 43 balls featured six fours and two sixes.
The result and all 20 points lifts Ross to third in the 10-strong division, with a home clash with leaders Hay-on-Wye up next on Saturday (June 4).
Anthony James hit 84 for Aston Ingham 1st XI at Hawkesbury Upton, but it wasn't enough to prevent a 69-run defeat in Gloucestershire League One.
The hosts scored 256-7 in their 45 overs, with Dan Smith taking three for 17 off five overs, and David Skyrme two and James and Tim Dulson one apiece, while James Benn and Will Green each held two catches.
Opener James steadily piled on the runs in reply, and Aston were in the game at 145-4.
But then his demise after facing 120 balls and hitting eight fours hit Aston hopes.
Dulson with a whirlwind 41, including six fours, helped them to 183 when he became the sixth victim, and well short of the run rate they finished on 187-7.
Jimmy Davies blasted 68 not out, including 13 fours, to help the 2nd XI to an eight-wicket win at home to Ullenwood Bharat 2nds in the Cheltenham/Gloucester/Forest Premier Division.
Luke Ward took five wickets while Toby O'Neill landed two as Aston dismissed the visitors for 169 in 37 overs.
And Davies and fellow opener Tom Chick soon had the fielders on the boundary in a strong opening partnership which put Aston in sight of victory, before the latter fell for 59 after battering 12 fours.
From there they comfortably eased to a winning 170-2 with 7.2 overs to spare.
The 3rds struggled though, away to Penallt & Redbrook 1sts in Division One West, falling 73 runs short of the 203-6 target.
Andrew Gardner secured a wicket brace with Philip Leighton and Lucia Carini-Roberts taking one apiece, while Max Evans secured a catch and a run out.
But Aston struggled to break the Wye Valley side's shackles in reply, Leighton top-scoring with 30, backed by Evans with 25 not out as they finished on 130-7.
And the 4ths also lost out by 47 runs at home to Ruardean Hill 2nds in Division 2 West.
Aaron Doidge and Charlie O'Neill took two wickets apiece as the visitors set a target of 167-5 in their 40 overs.
But only opener Tom Webb with 27 made double figures in the top order, and despite a 30-run last-wicket stand by O'Neill with 10 and Colin Leighton with 16, they were all out for 120 in 36.2 overs.
Marches League One Goodrich lost their unbeaten record and top spot away to high-flying challengers Canon Frome.
They dismissed the hosts for 166 in 39.4 overs, James O'Brien and Neil Price both taking three wickets and Jack Lewis holding two catches.
But only Joe Griffiths with 25 reached double figures as Goodrich collapsed to 77 all out in 26.2 overs, 89 runs short of the target.
Fownhope Strollers 1st XI lost by eight wickets away to Luctonians in the same division, after being dismissed for 128 in 39.3 overs.
Mike Berry top-scored with 23, backed by Bradley Lucas with an unbeaten 19, but were only joined in double figures by Andrew Gardner with 11.
In reply, the hosts dashed off 129-2 with 4.5 overs to spare, George Wood-Cole and Nick Terry with the wickets.
Also in Division 1, Woolhope 1st XI secured a tight four-wicket win over hosts Ledbury with an over to spare, seventh man Ben Park firing an unbeaten 51.
Ledbury scored 208-8 off their 45 overs, Duncan Bell and Brandon Caffull taking wicket braces.
In reply, Andrew Tanner with 31 not out, Dom Larkin with 30, skipper Ben Owen with 26, Matt Slocombe with 21 and Shaun Weaver 15 all contributed, before Park fired his half century off 54 balls, including eight fours, to take them to 209-6.
The 2nd XI also won at home to Moccas 1st XI in Division 3, Sholto Lacey snaring four wickets, George Griffin three and Richard Watts two, as the visitors were dismissed for 107 in 37.2 overs.
Lacey then hit an unbeaten 56, including 10 fours, to guide the hosts to 108-5 in 24.1 overs.
Richard Howell cracked 78 for Newent 1st XI, backed by Morgan Evans with 42 and Paul Carter with 35 not out as they scored 218-3 away To Rockhampton in Gloucestershire Division 2.
And tight bowling then secured a 44-run victory as they restricted their hosts to 174-7 in reply, Richard Henry, Jack Cowles and Carter all taking two wickets.
The Lions also won at home to St Briavels in C/G/F Division 1 by 38 runs.
Wayne Phillips top-scored with 48 backed by Lee Roberts with 44 and Andrew Duggan 32, Ollie Corston 27 not out and Josh Ralph 23 not out as they set a target of 217-5 off their 40 overs.
Mike Mason then took three wickets and Duggan and Phillips two apiece as they restricted the visitors to 179-8 off 40 overs.
The 3rds fell to Huntley 1st XI by nine wickets in Division 2 West, though, only skipper Charlie Edgell with 69 and Jay Scott with 27 making double figures in their 140-9 off 40 overs.
Duncan Abbott, Colin Reeves and James Collins enjoyed wicket braces for the villagers, who then raced to 141-1 in just 15 overs, Richard Bowman hitting an unbeaten 75 that included 14 fours and two sixes, while Steve Powell added 35 not out.
Sam Peacock with an unbeaten 75 and James Field with 55 not out guided Dymock 1st XI to an eight-wicket home win over Cricklade in Gloucestershire Division 4.
The visitors scored 169-7 off their 40 overs, Dan Gale and Thomas Streeter each taking two wickets, before the hosts reached 172-2 in 38.3 overs.
Comments
To leave a comment you need to create an account. |
All comments 0