John Kyrle secured a double win in a return trip to Five Acres this week with two netball teams.
The Year 8 squad seeking some last-minute preparation ahead of the upcoming Herefordshire schools' tournament.
Despite some difficulties early on due to gusty weather, John Kyrle's attack eventually found its rhythm, leading 6-1 at halftime.
Lohla Pacey, playing centre, created scoring opportunities and Imogen Lewis at goal defence made key interceptions.
With accurate passes into the circle, Lily Fenlon and Ava Chambers combined effectively to secure a 10-3 win for John Kyrle.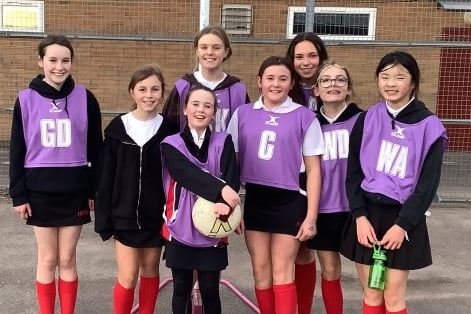 John Kyrle High School year 7 netball team
(JKHS)
The Year 7 team also gave a strong performance, with a closely contested first quarter. Wing attack interceptions allowed John Kyrle to extend their lead to 7-4 at halftime, and with shooters in top form, a 9-4 victory was secured.