Local crews to tackle the Retro Lombard Rally Bath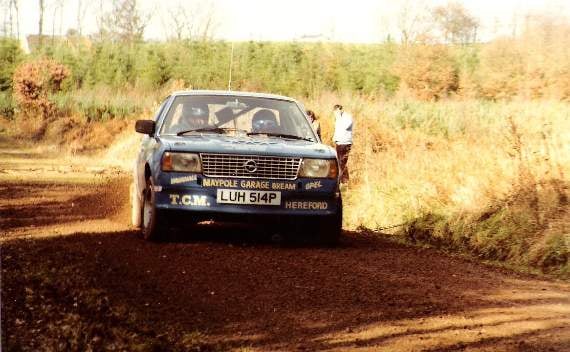 Photo of Rob Weir on the 1985 Wyedean. Photo via Peter Knowles.
()
Subscribe newsletter
Subscribe to our email and get updates right in your inbox.
In October this year, four local crews will tackle the first Retro Lombard Rally Bath.
100 crews will line up, including some who tackled the RAC rally in its heyday, plus cars that will bring back memories of the golden era of rallying.
Graham Elsmore/Stuart Harrold are amongst a list of top names on the entry list, alongside Stig Blomqvist Audi Quattro, Harri Toivenen Metro 6R4, Jimmy McRae Manta 400, Terry Kaby TR7v8. Plus the likes of Tony Fowkes, Louise Aitken Walker, Rosemary Smith, Peter Clarke, Geoff Simpson, Paul Faulkner and John Midgeley, all of whom did the RAC Rally many times.
Elsmore did the event in a variety of cars, with the best result of 13th second in Group One, in the Thomas Motors RS2000 on their way to RAC Group One championship title in 1977.
However, it will be the battled scared Patrick Motors Chevette that spectators will remember most. When the final four stages of the 1980 RAC took place in the Forest of Dean, a very heavy impact with a gate post in Esgair Dafydd in thick fog dropped them way down the leaderboard.
The car looked fit only for the scrap yard, but Rex Paddock and the service boys patched it up to keep it going so that Graham and co-driver, Irishman Frank Main, could make it back to Bath in 18th place.
The Russian crew in their Lada are possibly still having nightmares - as Graham overtook them on one of the long straights in Russell's Inclosure by taking to the undergrowth at 100 mph to pass them.
He even set a fastest time in Serridge, more proof that Elsmore could mix it with the world's best drivers.
Joining them will be Dave Jenkins and Ross Weir in the Weir Laundry Equipment Escort RS1800. Dave did course car over the Dean stages on the 1986 RAC. They will use the Escort that they will use on Rally Barbados in June.
Martyn Walby will have Paul Willetts alongside in a yet to be named car.
Paul said: "Mart was keen to do it so here we are. We're working at using something which has been associated with the Lombard RAC Rally in the past.
"It's good that Graham, Dave and Rob will also be there. The Forest of Dean has a great tradition linked with the RAC Rally, it used stages in the Dean many times at all hours of the day and night."
Willetts continued: "I followed the entire RAC Rally seven times, with five days and three nights out of bed it was all go. You would grab an hours sleep here and there. The weather could be awful; snow, ice fog, rain, but it was a marvellous time.
"These guys would drive these cars flat out for five days, but this Retro is a great concept and one which will no doubt grow."
"Having spoken with Tim Nash we are looking to put together a Welsh International Retro in 2020, which will visit the Forest of Dean as the Welsh rally did in the early 70s."
Rob Weir will be joined by Colin Jenkins, and will use a brand new Dave Jenkins Motorsport built Escort RS1600.
The retro event is the brainchild of former top co-driver of the 60s/70s Peter Scott and Tim Nash, brother of former Triumph works driver Tony.
It will re-visit some of the tarmac stages used on the Lombard RAC Rallies in the South West in the 70s and 80s, and will be based in the Roman city of Bath, who played host to the rally in 1976, 1980, 1983 and 1986.
It will take place this autumn, from October 19th-21st.
The Saturday will take in a tour of these long forgotten tests including Cricket St Thomas, Porlock Toll Road and Wiveliscombe Hill Climb, before returning back to Bath on Saturday evening.
Sunday will see a display of the cars in Bath, Le Man style, just as they were lined up back in the day.
"It's something we talked about and decided to give it a go and the response has been overwhelming. I myself took part in the '76 event and have great memories of the rally," said Tim.
"We've got some fantastic drivers and cars on the entry list and it will be a great weekend for nostalgia and I'm sure there will be a huge amount of spectators about also."
Comments
To leave a comment you need to create an account. |
All comments 0