A GIANT octopus and coral reef have 'cropped' up at an ever popular local tourist attraction for the summer.
The theme for this year's Elton Giant Maize Mazes, which reopened on the weekend at Elton Farm near Newnham, is 'The High Seas'.
The scale of the 12-acre octopus and coral reef is best appreciated from the aerial pictures (above and below) captured by Dr P Morantz.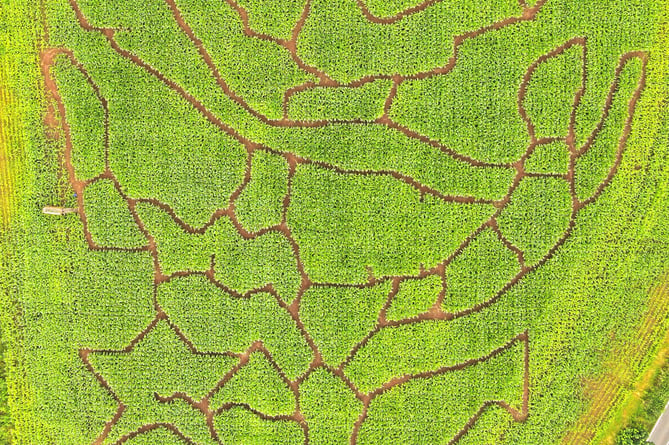 The coral reef maze
(Elton Giant Mazes)
The marine-themed attractions also includes a "sea snake labyrinth".
The attraction's Activities Maze has also reopened with motion sensors, challenges and water squirt quiz boxes.
The mazes, which are now in their 21st year, are open from from mid July to early September.
They are suitable for all ages, are pushchair friendly, and dogs are also allowed in.
The owners say their large, medium and small mazes provide "an unusual and entertaining challenge."
They also have trivia quizzes, look out towers and a viewing bridge.
To make the mazes, each April, the land at Elton Farm is ploughed and made into a seed bed.
Maize seeds are then planted with a precision drill.
The crop is drilled North to South and East to West so that the rows are at right angles to each other, creating a grid effect.
The maze designs are then drawn out on graph paper, with each square representing a six metre square on the field.
Pegs are then placed in the crop in six metre squares.
By referring to the design on the graph paper, the team know which rows in each six metre square that need to be removed to create the maze paths.
It takes a team of five people five days to hoe out the maze paths in June, when the plants are about 30cm high.
By the start of July, the plants have grown to waist height and by mid July to head height.
The plants flower in early August and then produce their cobs.
The variety of maize grown is for cattle feed, as it is starchy and not pleasant to eat. They also grow sweet corn for sale.
The maize crop is harvested in October and fed to cattle over the winter.
The field remains fallow over the winter and is replanted the following Spring.