Rowers set for relaunch of their flood-hit clubhouse
Thursday 2nd June 2022 4:00 pm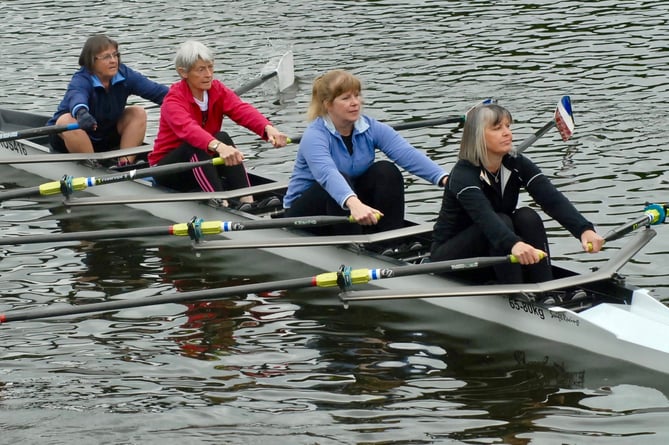 Ross rowers on the Wye at Monmouth recently
Subscribe newsletter
Subscribe to our email and get updates right in your inbox.
A FLOOD-hit sports club will be proudly reopening their refurbished clubhouse this Friday, more than two years after it was devastated by high water.
Ross Rowing Club has had to operate without its bar and clubhouse since the October and February floods of 2019 and 2020.
But this Jubilee holiday Friday, members and guests will be throwing open the doors once again, after a major upgrade and revamp.
Club president Jeremy Picton-Turbervill said: "Historic floods ripped through Ross RC leaving its clubhouse severely damaged and totally unusable.
"Matters were further compounded by the Covid-19 pandemic during 2020 and 2021, with a significant drop in membership numbers and club activities.
"However, the resilient club members pulled together, making do with pop-up facilities and providing a warm and friendly welcome to all, whenever possible.
"And at last, after 30 months of extensive and costly rebuild, the clubhouse is re-opening.
"With a fully refurbished bar and social area, kitchen and catering facilities, and gym and changing areas, Ross Rowing Club is finally back in the club, and out on the water."
An informal and friendly afternoon is planned this Friday afternoon to say thank you to all the support that has been shown to the club by its members and affiliates, club sponsors and supporters from the local community.
Things kick off with arrival drinks at 12.30pm, followed by a welcome by the club president and a boat-naming ceremony.
The clubhouse will be officially opened at 1.15pm, followed by a BBQ and an afternoon of club sports events, with a prize-giving at 5pm.
The floods left the boathouse and clubhouse three foot deep in water with four boats crushed on the racks.
A combination of lockdown and the unavailability of the bar facilities, and a dip in membership, meant tough times for the club, with its 2020 regatta also cancelled.
But a £75,000 Sport England Lottery grant and insurance pay outs then paved the way for a £329,000 rebuild for the 152—year-old club.
Club secretary Jan Rosser recalled last year: "February's floods were the worst ever, the water level was completely unprecedented. The club was completely underwater in the clubhouse and boathouse.
"And prior to that, contaminated water in the October floods meant we couldn't use the clubhouse and had to put up temporary toilets and showers outside before even worse hit four months later.
"Then Covid arrived, and we couldn't row or use the club anyway or get rebuilding work done.
"For some funding, we opened an outdoor bar and BBQ for members and campers at weekends when lockdown was lifted and held a charity shop, but it's been a struggle."
Club facilities director Torsten Pope also said last year: "The floods and then Covid gave us a chance to rethink the facilities, which were a bit like a rabbit warren in places.
"All in all, we're smartening everything up. We're making a much better use of space, making it more user friendly.
"It will also be lighter and airier as well, with roof lights and glass panels."
The new facilities include a proper professional kitchen for events and functions, which can also be hired out, and modern cubicles in the changing rooms, including disabled access.
The on-land training area has also been upgraded for club indoor rowing, and the building made more flood resilient.
Any club supporters wanting to attend this Friday's opening should email [email protected]
Comments
To leave a comment you need to create an account. |
All comments 0